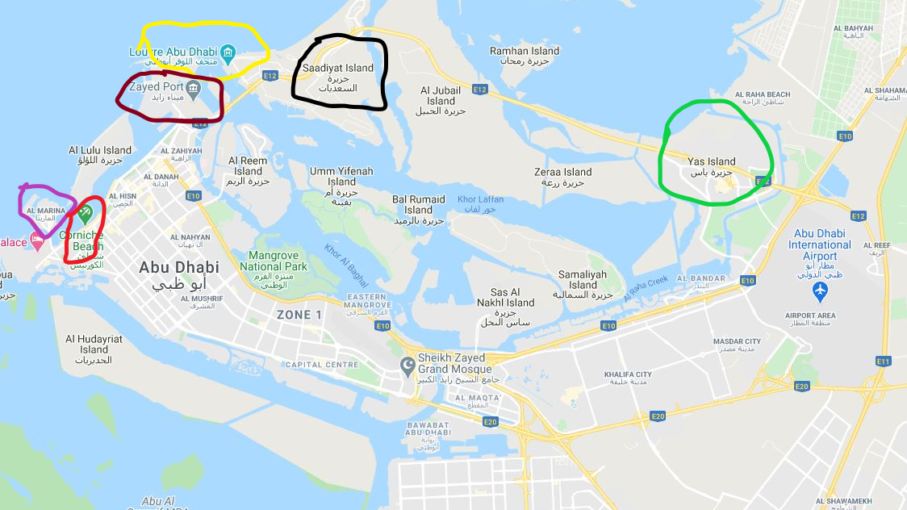 The United Arab Emirates consist of seven cities the largest of them been Abu Dhabi. It produces 95 % of the oil production of the country. Abu Dhabi is the capital of UAE, In nightlife, Abu Dhabi can not compete with Dubai.
Corniche Road (Red Color)
The best Place start is the Abu Dhabi Corniche, Which is a prominent 8-kilo meter in front of the beach, it is home to many hotels, malls making a desirable place to live. The people enjoy and getting relax on this beach, Bluewater and white sand it does not give better than this.
Emirates Palace hotel ( Red Color)
One the best luxuries hotel in the world, you can get inside even you are not a guest, known is the third most expensive hotel in the world build. The Emirates palace cost 3 Billion $ to construct that almost twice Expense than Burj Khalifah of Dubai. It cost is 400 $ per night, if you have gone a stay in the Luxuries hotel. Opposite the hotel, you will see the Eithad Tower. Which is shown in the movie fast and furious.
Yas Island (Green Color)
Yas Island created in 2006, with one thing in mind entertainment. It's located the 40 Kilometre away from the City Center. Here you will find Ferrari World, There is also Yas Marina Circuit, which is formula one race track, Yas Water World, Water Park, Theme park, Sea World Abu Dhabi Which is due open in 2022, and will be the first sea world in outside the united state.
Saadiyat Island (Yellow Colour)
Saadiyat island which is less than a kilometre of the shore of the Abu Dhabi City centre. Here you will find the louvre Abu Dhabi which is civilization Museum.
Al Mina Fish Market (Dark Red Colour)
Al Mina Fish Market is one of the Busiest and crowded areas in the city. Which is located at the Mena Zayed port, which one of the largest port in Arabian Gulf, That can accept five cruise ship at a time. Here you can choose fresh fish and can be cooked by the nearest restaurant.
Marina City ( Purple Colour)
Marina city district with marina mall one of the largest malls in the city, The typical Arabian village name heritage Village is also located in marina city District.