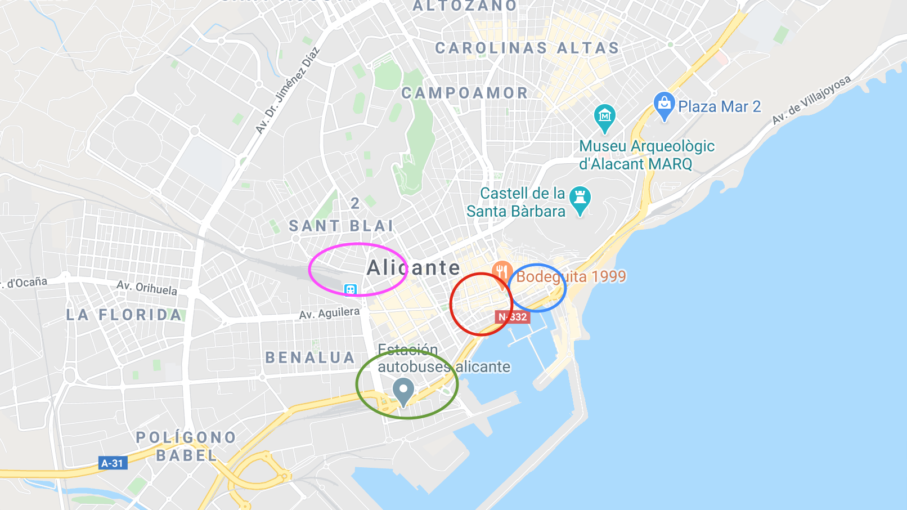 Alicante Neighborhood Guide
Located on the Mediterranean coastline, Alicante is a beautiful resort town. With temperate weather year-round, it is a popular spot throughout the seasons but especially crowded during the summer months.  
El Centro/Old Town- (Red)
El Centro is the large historic center of Alicante and is home to most of Alicante's most visited sites. This is where most travelers spend the majority of their time in Alicante.
Its main attraction is a bustling promenade overlooking Alicante's expansive white sand beach. Although it's a popular town for visitors, Alicante still has its fair share of residents who spend their days relaxing on the beach. Grab a towel, a drink, and a magazine and lounge all day or take a dip in the warm seawater. The beach is populated with little huts selling cocktails, food, and ice cream with dancers and singers supplying entertainment during the night.
Overlooking the beach and the city is Santa Barbara Castle, which sits on the very edge of Old Town. Located on top of a little mountain, you can pay a small fee to take an elevator to the top instead of walking. It's worth it for its amazing panoramic views of the city and sea. 
Santa Cruz- (Blue)
A small section that merges with the old town is the neighborhood of Santa Cruz. A hidden gem, you probably won't find if you don't go searching for it. Starting in the crowded downtown area, you have to trek up several steep staircases to this sloped neighborhood.  Santa Cruz displays all of the best parts of quintessential Spanish style, with its whitewashed houses, colorful Spanish tiles, and overflowing flowerpots hanging in sun-filled patios. Although some just walk through this neighborhood, most stop for a break to grab a small tapa and glass of wine at one of its cozy restaurants. 
Alipark- (Pink)
Located a bit farther from the loud and crowded beach area, Alipark the ideal neighborhood for a bit of peace and quiet. A more modern part of the city, Alipark is family-friendly and a great place to get the authentic Spanish experience. With family-owned restaurants that focus on regional cuisine, people come here for traditional Mediterranean dishes, like paella, seafood, and tapas. Another plus is that you will be surrounded by locals instead of tourists if you go bar hopping here. 
El Puerto  – (Green Area)
Surrounding Alicante's harbor is the bustling neighborhood of El Puerto. This area is known for both fresh seafood restaurants and nightclubs that don't shut down until the early morning. This makes it popular with crowds of all ages, depending on the time of day. Whenever Alicante is celebrating a festival, there is sure to be something going on in El Puerto.