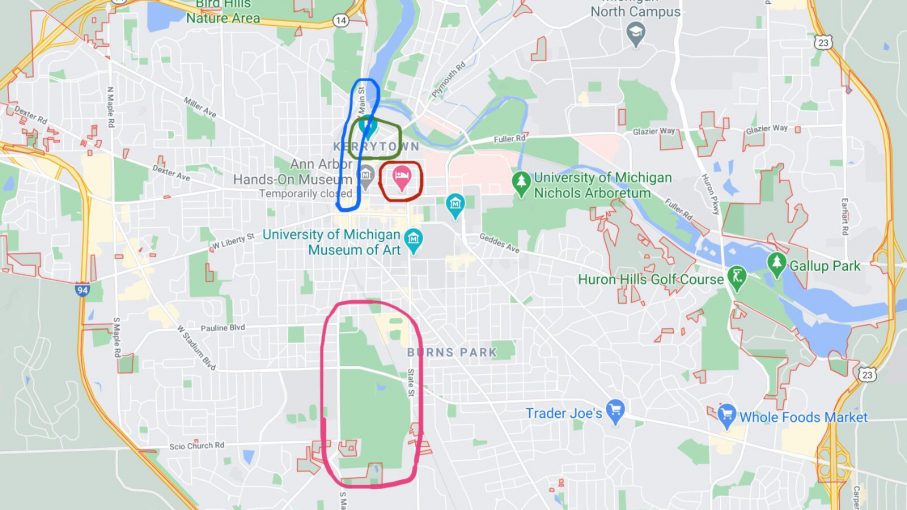 Ann Arbor is known as a safe university town, being the home for University of Michigan, but it has many great neighborhoods besides the school campus. This mapee covers mostly the Downtown area, which is the liveliest part of Ann Arbor.
Downtown State Street (Red Area)
State Street is the place to be whether on a Monday morning or at a Friday night dinner. This area is the intersection of music, art, culture, food and local goods. It is young and hip, offering murals, walls covered with graffiti and random live music on the street that will look great on your Instagram page. This area will fill your artistic soul with many museums, concerts, independent films and artist talks, which take place at the historic Michigan Theater. This is a nice area to eat, get good coffee and admire art.
Downtown Main Street (Blue Area)
Main Street is more dynamic with many shops, fine dining restaurants and cocktail bars. It is great for the weekend and a night out. Here, you can have a topnotch dinner and go bar hopping after. The best cocktail bar is The Last Word, which is an underground hidden gem, offering live jazz music sometimes. Apart from the great nightlife, Main Street is famous for its local and independent bookstores, my favorite being Literati with its own cute little coffee shop.
Kerrytown (Green Area)
Just a few blocks from Downtown Ann Arbor, Kerrytown is an extraordinary neighborhood and an eclectic shopping destination. At Kerrytown Markets & Shops you can find local and unique shops, art galleries, vintage stores and home décor stores. This neighborhood is really charming and more preferred by creative and artsy residents of Ann Arbor. There are many great restaurants at Kerrytown as well, the most famous one being Zingerman's Deli.
South Main (Pink Area)
This area is definitely for sports lovers. You can walk around this area and see the famous Michigan Stadium and Crisler Center (and maybe catch a few games), Yost ice arena and the University of Michigan golf course. This area is also close to the Briarwood Mall if you want to shop from well-known brands. But if you're not planning on buying a house and living here, these are pretty much all the attractions in this neighborhood.