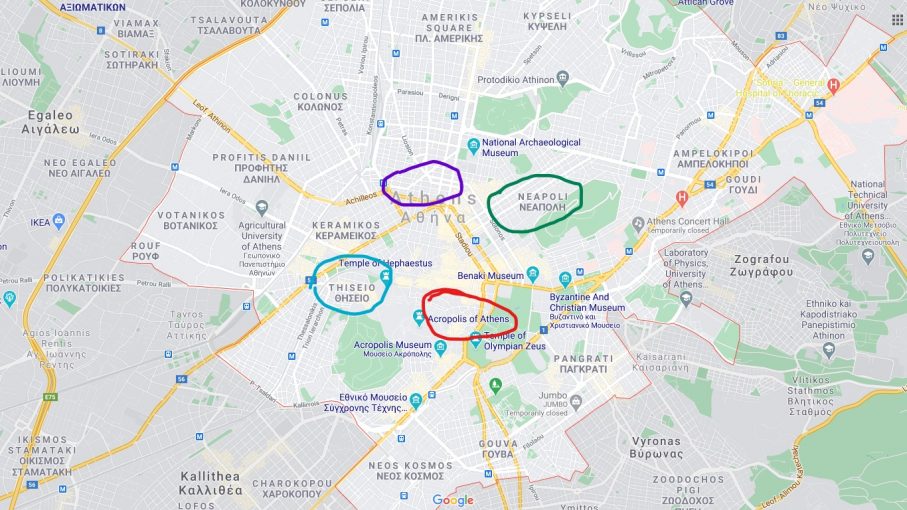 Red zone (Plaka)
Plaka is one of the oldest neighborhoods in the whole of Athens. It offers you a very beautiful experience If you are a tourist. Mostly, foreigners are in this neighborhood. Here are located a variety of shops. I would recommend you staying here if your intentions are visiting Athens, and not living there. Plaka is very good for explorers and adventurous people. If you want to relax it's not a bad option but you can search for something calmer.
Blue zone (Thissio)
Thissio is also a very nice part of Athens. It's not very interesting for young people, but on the other hand, there is a lot to see. Here mostly live thirty-something Athenians so this place is perfect for their age group. Very family-friendly neighborhood.
Also if you are a nature lover, you can enjoy it here. Sometimes it can be full of people and tourists so that can be a problem.
Green zone (Exarcheia)
Personally, one of my favorite Athens areas. It is designed with these artistic tones and it gives you so chill yet beautiful vibe. If you want to stay in this neighborhood, you can expect a lot of tourists and rarely citizens. It is surrounded by graffiti and artists who are painting them. Very calm area, with a lot of to see If you like art. From my experience it can be full of people and getting to the center of the area is harder because of traffic. Anyway, you have a lot of pretty restaurants with great food.
Purple zone (Omonia)
Omonia is the place you should be warned about: I didn't have a great experience there. First, it is very crowded, full of people very loud and not in a cute, nice way. Most of the locals live there and you can book the cheapest hotels in this area. My advice is to be aware of and do not get distracted. Use taxi to come and leave and research the area in the daytime first.
It is very fabulous to see at night, but you must be careful. If you ever visited urban cities with a lot of people and a hurry, this will not be a problem for you.