This is a mapee of the Augusta, Georgia area.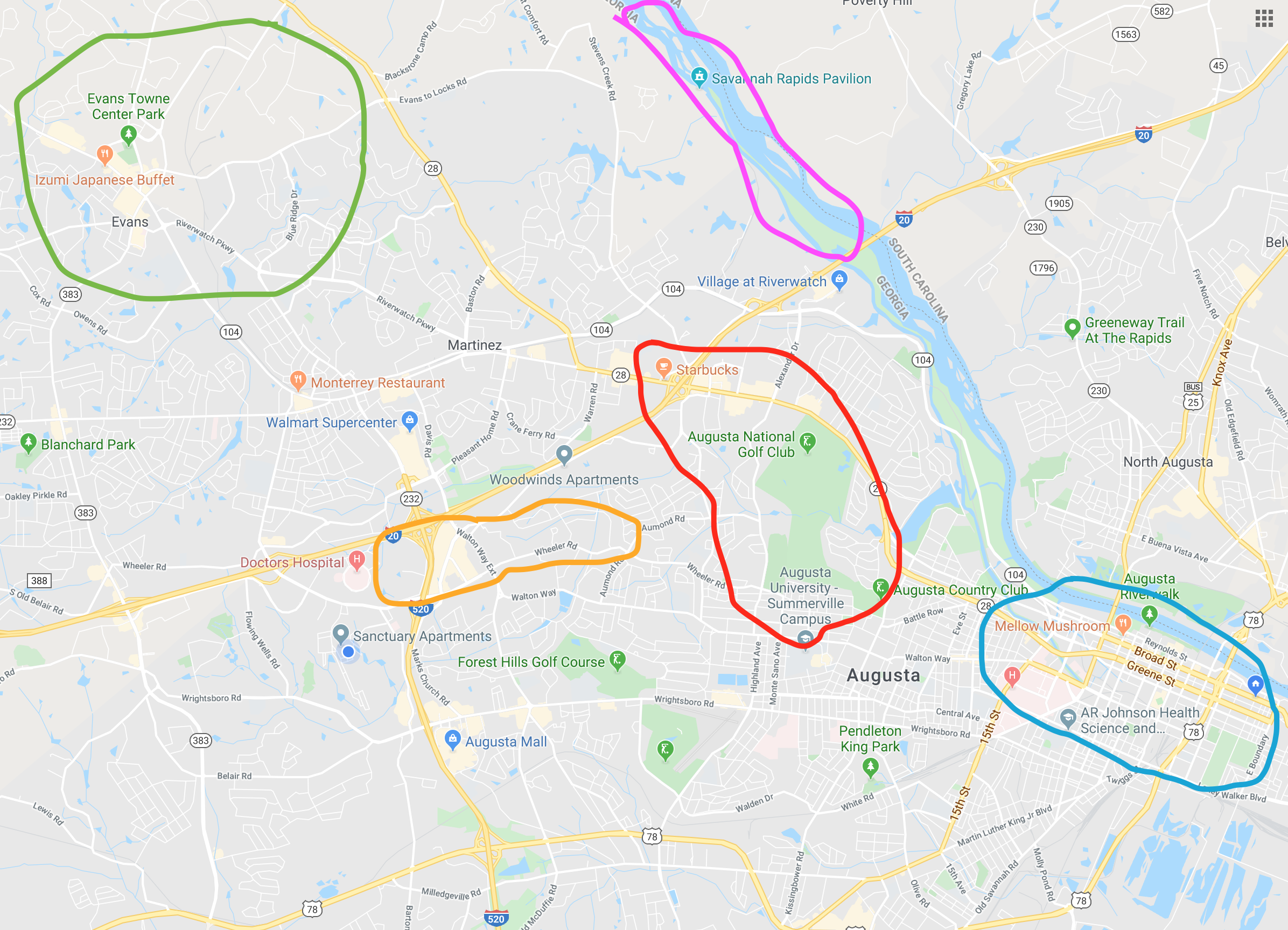 Green area: 
This is the Evans area that's also known as 'Uptown' by locals. This area is more on the upscale side, with much of the city's "upper class" choosing this area to call home. If you're into fine dining, clean recreational parks, and modern living, Evans is your best bet. If you're a party animal, you're better off staying elsewhere. 
Orange area: 
This area doesn't really have a name but consists of Wheeler Road and Robert C. Daniels Parkway. If you're into shopping, this is where you want to be. In this area, you'll find a lot of big-name stores like Target, Kirkland, etc. You'll also find some nice chain restaurants like Buffalo Wild Wings, Carolina Ale House, and Twin Peaks (if that's your sort of thing). For movie lovers, the area's most popular movie theater is located here. This isn't much of a spot for people looking for nightlife, but it's not far away from the action. I'd consider this area as a quiet and centrally-located area. 
Red area:
This is where the Masters and much of Augusta's businesses are located. On Washington Road, you'll find a lot of bars, shops, dining, and other options for entertainment. The Masters course isn't open year-round, but if you want to stay nearby when you visit for the Masters Tournament, this is where you'll wanna be. Washington Road does stay pretty busy with traffic, though, so take this into consideration. 
Purple area: 
For all the outdoorsy folks and nature lovers, this is where you'll want to be. The Augusta Canal is easily Augusta's prettiest outdoor locations, complete with a river and a long running/biking trail. There are also a few kayak rental companies along the river if that's your sort of thing. 
Blue area: 
This is my favorite area of Augusta, hands down. Known as Downtown Augusta, the area is filled with historic architecture, locally-owned restaurants and bars/clubs, a local performing arts theater, a Riverwalk area for leisurely strolling, an event venue, and more. Though Downtown used to be considered to be a dangerous place, its now one of the safest in the city. If you're wanting to be near the action, opt to stay Downtown. You won't regret it.