This is a mapee covering part of the Southern part of Bali, Indonesia. This is the most visited part of the island.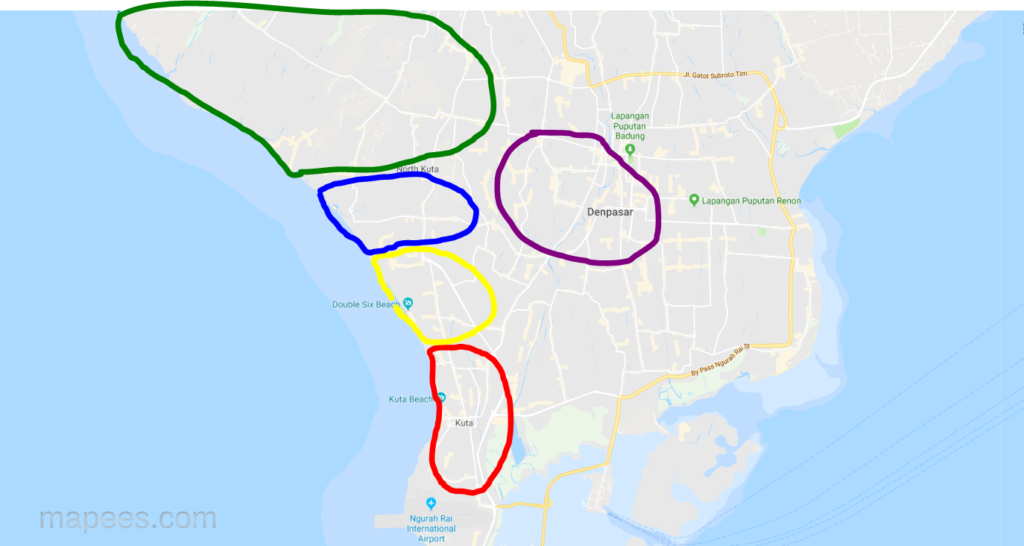 Red Area:
This includes the Kuta area. This is ground zero for excessive acts of alcohol consumption, partying and debauchery. If you're a party animal, this is the place for you. If you want a tranquil place, then look elsewhere. In this area, be ready to rub shoulders with pick pockets every ten feet masquerading as motorbike transport. Be ready to get offered illegal drugs every ten feet by the same people, especially if you are young.
The beach is okay to relax and enjoy some Bintang, but not great.
Accommodation in the area is generally affordable, as you can get 4-star hotel deals for under $50/night. With 3-star hotels hovering in the $25 range, and even less.
Yellow Area:
This includes the Legian area. This area is "Kuta-lite." It is a bit more laid back than Kuta, but still slightly rowdy. If you want to be close to the action in Kuta, but removed from some of the madness, then this area works. The beach here is nice to relax in the evenings and watch the sunset.
Blue Area:
This includes the Seminyak area. This area is considered a more upmarket area. It has some decent accommodation and some nightlife options. However, it is nothing as crazy as Kuta. Expect to pay a little more in this area, but overall it is still generally affordable.
Overall, it is a nicer area, with a decent beach.
Green Area:
This includes areas in and around Canggu. These areas are more rural in character, but have a large concentration of foreigners. If you are into staring at expansive rice fields and such, then you might like this area. With all the foreigners here, there is a decent nightlife in the area. However, getting around can be a little tricky. Renting a motorbike might be your best option.
At the time of writing this, cellular reception in the general area is still spotty at best. This makes ordering Grab, Go Jek etc an issue at times. Accommodation options are similarly priced as the Seminyak area.
Purple Area:
This area isn't typically frequented by foreigners as the other areas here. It is a more local area, and would only be ideal for longer term stays. There are more affordable accommodation options around here.