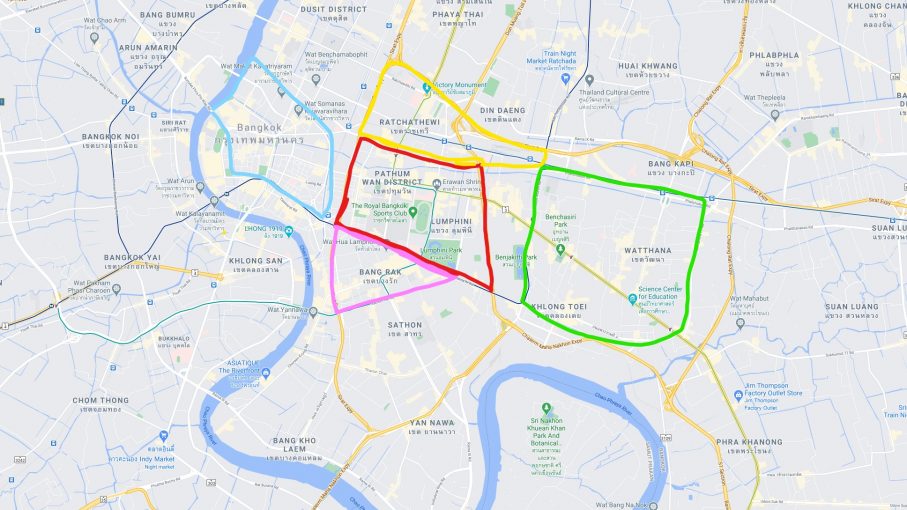 Blue Area:
This is the Khao San area: one Bangkok's most bustling regions. If you are looking to release your wild side, Khao San's bars and clubs are the best places to go. Thai food around here is very cheap, and you can find many street food vendors and small restaurants along the river.
Khao San is very traditional, with wooden, shack-like buildings covering the streets. This can give the impression that Banglamphu is poor and dangerous; however, this neighborhood is actually quite safe, as long as you remain careful. Accommodation is very cheap here.
Red Area:
Pathum Wan is known as one of Bangkok's best commercial areas. The Siam mega-mall and high-end fashion shops along the main streets make this an ideal place for shoppers. Pathum Wan also has a thriving night scene, with many rooftop bars and trendy club.
This is a very developed, modern region of Bangkok and is regarded as one of the safer areas of Bangkok.
Pink Area:
This neighborhood is called Bang Rak and is home to Bangkok's biggest buildings. Bang Rak is a commercial area, with a lot of the buildings being used for offices. There are many high-end restaurants and hotels along the river. Accommodation can range from quite affordable to very expensive.
Versatility is Bang Rak's strong point; there are many family-friendly activities nearby, like Lumphini Park—one of Bangkok's finest green spaces. However, If you aren't bothered about a family-friendly experience, then Bang Rak's Patpong areas have much to offer. Night markets, nightclubs and Bangkok's biggest red-light district are just some of the things Bang Rak has to offer.
Yellow Area:
Similar to Pathum Wan, Ratchathewi is a very developed area, with beautiful skyscrapers and a busy nightlife. This is quite a safe area of Bangkok, but accommodation is quite expensive in comparison to many similar areas.
Green Area:
This is Watthana. This is a more traditional area of Bangkok, with wooden buildings and temples. The streets are often crowded which makes it hard to get around. Watthana also has a more modern side, with nightclubs and restaurants, as well as a large shopping presence.
Accommodation is very affordable here and generally of high quality. This area can get dangerous later in the evening, especially in less populated areas.