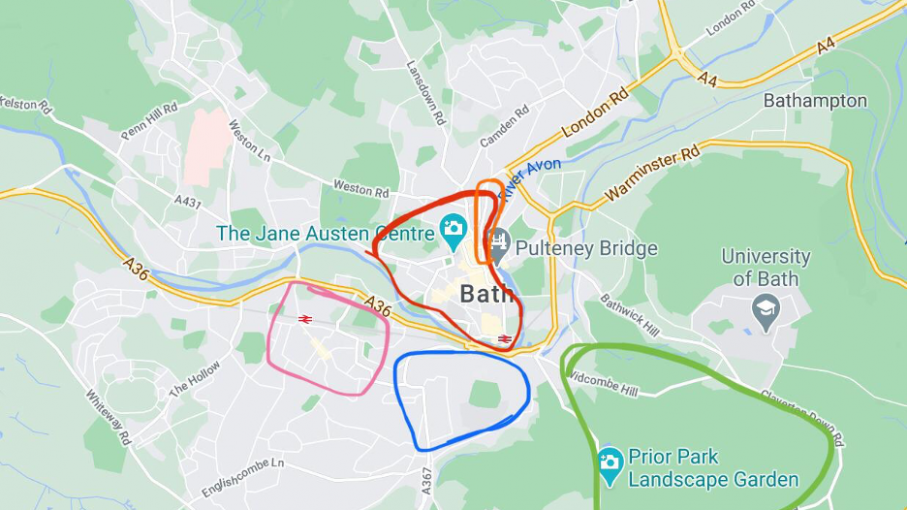 Bath is a small university town in England, famous for its Roman built baths. It is a safe and enjoyable town with many attractions mostly offered in city center. It is approximately 1.5 hours from London via train. You won't really need a car because everywhere is within walking distance, even places outside of city center. You can spend a weekend in Bath and visit every place it offers!
City Center (Red Area)
Most restaurants, cafés, museums and main historic and cultural attractions such as the Roman Baths are located here. Also offers many independent and unique shops It is a walkable neighborhood. Offers many accommodation opportunities with varying prices. If it's your first time in Bath, City Center will be great choice for accommodation. Great for nightlife as well.
Widcombe (Green Area)
Located across the river from Bath, next to University of Bath campus. A bit outside of central but still within a walking distance, offering some independent shops and restaurants at the High Street. If you are into hiking or walking in nature in general, Widcombe offers some green nature you can explore. Wouldn't recommend an accommodation here, but lovely to visit during the day.
Walcot (Orange Area)
Lovely and hip neighborhood close to city center. You can find many great accommodation deals close to here, which will be within walking distance to city center as well. Close to Jane Austen Centre, which is a must see place. Walcot is a cool neighborhood with many cozy bars and clubs, still safe to walk in the evenings on streets with a beautiful view of Georgian houses. Offers great small and affordable restaurants, independent shops and boutiques.
Bear Flat (Blue Area)
Offers some nice hotels with varying prices, the most famous one being the Bear Hotel. Outside of central but still within a walking distance, Bear Flat is mostly popular for its shopping area. You must visit the Alexandra Park and explore the unique boutiques around here.
Oldfield Park (Pink Area)
At a walkable distance to city center, a quiet and safe residential area mostly for families and students. Offers many parks and playgrounds, so great for families with kids. You can rent a bike here for the day and explore what the neighborhood offers.