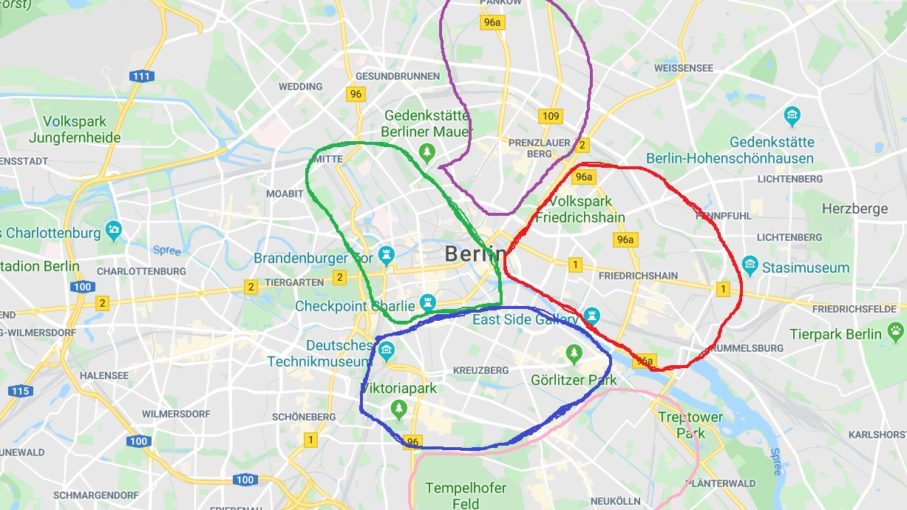 This mapee covers parts of Berlin, Germany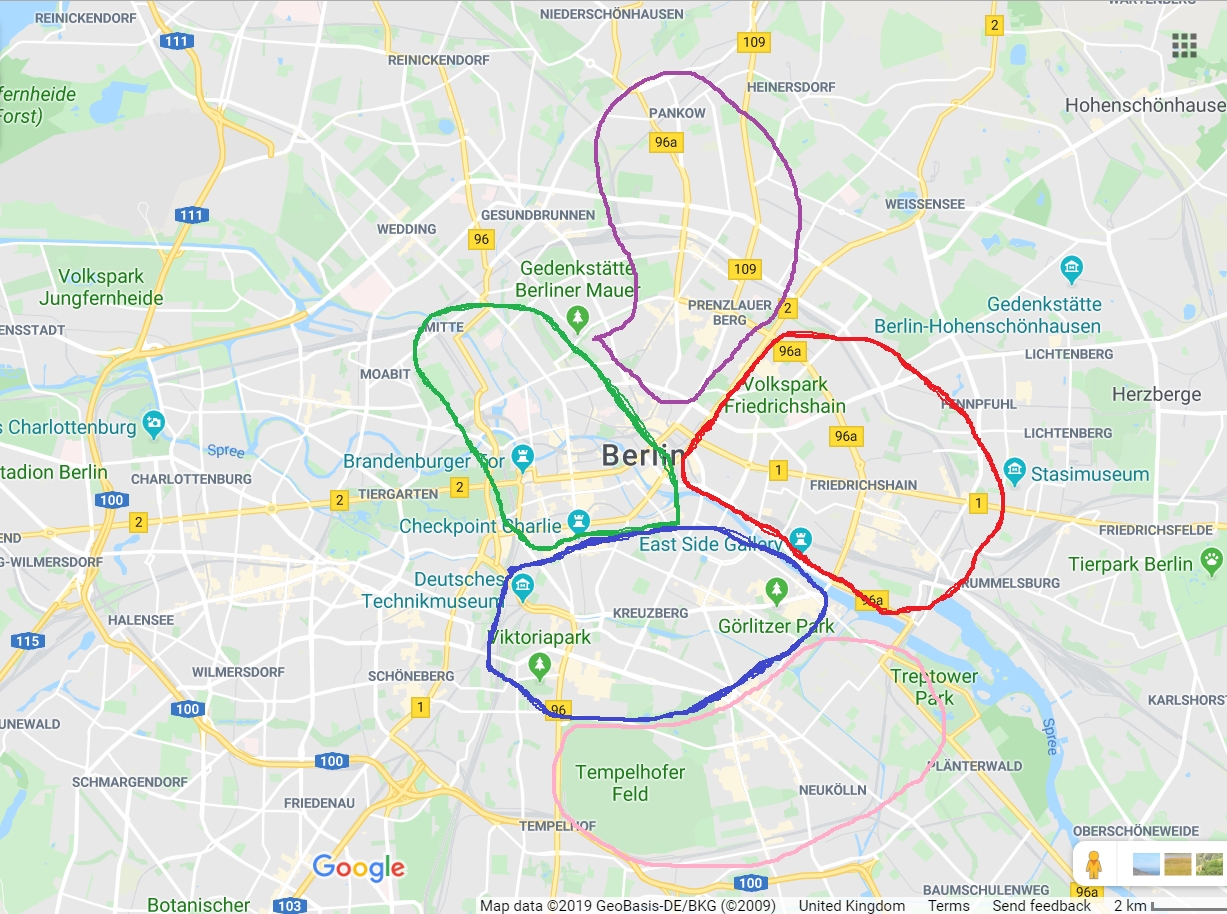 Friedrichshain (red area)
This is a young and lively neighbourhood with a great nightlife scene. Alongside being home to the famous Berghain nightclub, there are plenty of bars, clubs and music venues to choose from. For movie buffs, there are a collection of independent cinemas and outdoor movie venues. On the weekends you can find vintage goods at the flea markets, or try some of the city's best vegan food at the street food markets. Take a walk along the river Spree and visit the East Side Gallery, which is the longest remaining section of the former Berlin Wall.
Kreuzberg (blue area)
This is probably the most hipster neighbourhood in Berlin and is known for its creative start-up scene. Although it's being rapidly gentrified, this area still holds the gritty charm you expect from Berlin. It's also very multicultural, and is where all the artists, students and foreigners live. You won't run out of bars to visit, as there are hundreds of them here, and most are open until the early hours. Coffee lovers will find themselves at home in Kreuzberg. Most of Berlin's best roasteries are located here, and are taking third-wave coffee to the next level.
Mitte (green area)
Mitte, which translates to 'middle', is essentially the heart of Berlin and should definitely be on your list. This is where the main sights such as the Brandenburg Gate, Reichstag and Jewish Memorial are located. It is also the go-to for art galleries and museums and anyone interested in history should visit Museum Island, which is a collection of five museums in one location. Mitte is great for shopping too, and has everything from designer brands to little boutiques. Check out Alexanderplatz, one of the city's most visited squares.
Neukölln (pink area)
Neukölln is a very up and coming area, and has undergone major changes in recent years. Traditionally home to a large Arabic and Turkish community, this working class neighbourhood is now drawing in more artists and foreigners. This is clear to see from the independent boutiques, vintage stores and galleries as well as the extensive choice of cuisine. Neukölln has arguably one of the best places to chill out – the former Tempelhof Airport. This is now a huge public park which is home to a wine festival, gardening projects and even kitesurfing on the runway.
Prenzlauer Berg/Pankow (purple area)
This neighbourhood survived many of the WW2 bombings and is filled with elegant historic buildings. With lots of green spaces and outdoor areas, it's known to be quite family friendly, as it is cleaner and safer than other areas of Berlin. With fancier buildings and tree lined streets, Prenzlauer Berg/Pankow shows off a different side of the city. Health food fans will love this place, as it has more organic food shops than any other area. There are also some great shopping spots like Mauer Park – one of Berlin's most well-known flea markets, and Kastanienallee. This area is also home to the Berlin Wall Memorial.