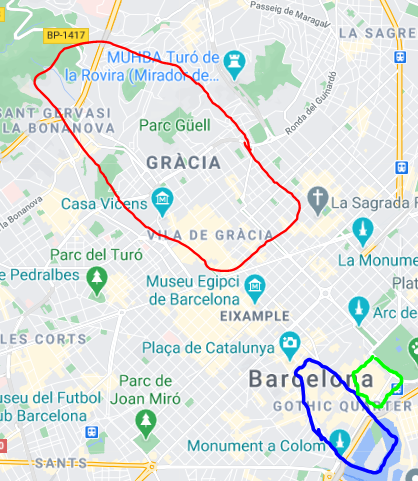 Red Zone – This is Gracia, one of Barcelona's most popular and largest neighbourhoods. Gracia blends all the ideals of tourism together into an awesome, authentic neighbourhood perfect for shopping, relaxing and strolling through narrow streets. The neighbourhood is family friendly and vibrant, with a much calmer atmosphere than the centre of the city, and a lot less traffic. As it is famous for its local cuisine and cultural bars and restaurants, you shouldn't forget to take the opportunity of tasting Barcelona's brilliant food during your stay. If you're looking to snap some iconic pictures quintessential of Barcelona's culture, drop by the Park Guell. Though it is extremely popular and can get crowded frequently, if you arrive early in the morning you'll have enough time to take those social media worthy pictures.
Blue Zone – If you're a history nerd or just love a rustic, antique feel in your travels, the "Gothic Quarter" is the neighbourhood for you. Rich in heritage and culture, the Gothic Quarter is brimming with original medieval streets, spruced up with flower stalls and appealing little restaurants. The Gothic Cathedral of Barcelona, built between the 13th and 15th centuries, is a must-visit, so add it to your bucket list if you plan to stay in this neighbourhood. Though it may not be as easy to navigate as Barcelona's other neighbourhoods, given the narrow, winding streets, you get used to the area quickly, and there's a lot to do, from exploring to resting in peaceful squares to finding music venues. You'll be spoiled for choice in shopping, and since the Gothic Quarter is relatively close to the city centre, lots of other attractions are very accessible.
Green Zone – El Born is a trendy neighbourhood in Barcelona, but characterised by medieval streets and a range of restaurants, from traditional to modern. The Picasso Museum, Barcelona's second most popular museum, is a very appealing attraction, but the area can get very busy with lots of foot traffic during the day, and doesn't feel as safe as the other neighbourhoods at night. If you're into boutique shopping and bars, El Born is probably the ideal neighbourhood in Barcelona for you! The nightlife here is very active, so if you enjoy staying up late during your travels, you should definitely consider El Born.