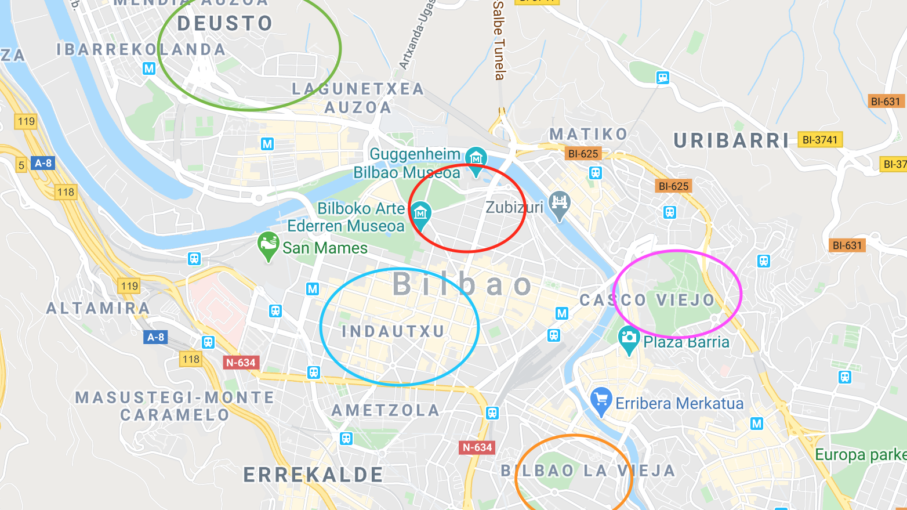 Bilbao Neighborhoods
The proud capital of the Basque Country, Bilbao is a modern city with amazing gastronomic offerings. 
Abando- (Red Area)
This sophisticated and expensive neighborhood houses Bilbao's archeological gem, the Guggenheim Museum. Here you can find upscale restaurants, luxury apartments, well-dressed locals, and souvenir shops selling postcards and magnets. 
Locals like to walk around this central neighborhood to admire the amazing architecture, walk along the wide river, and visit its many art galleries. 
Casco Viejo- (Purple Area)
Casco Viejo, literally translating to old helmet, is Bilbao's old town and stands out from the rest of the modern city. This medieval neighborhood has narrow, winding cobblestone streets, lively nightlife, and a lot of shopping. Casco Viejo is one of the most-visited parts of the city, so it is usually loud and busy, making it a popular place to get a drink. 
Visitors and locals alike love the Mercado de la Ribera, the largest covered market in Europe, where you can pick up fresh fish, produce, cheese, and more. 
Bilbao la Vieja- (Orange Area)
The trendiest neighborhood in the city is Bilbao La Vieja, which is popular with the younger crowd. Here you can find hip clothing boutiques, vibrant street art, the latest in food trends, and the coolest craft breweries.
The terraces and plazas here are the perfect places to grab a pintxo (a Basque tapa) and people watch. During the night, people come here to dance and let loose. 
Deusto – (Green Area)
Located across from the river and farther from the center, the neighborhood of Deusto surrounds Bilbao's university and is populated with students. You won't find stunning architecture here but you will find cheap drinks, an exciting atmosphere, and a constant party on the weekends. 
Indautxu- (Blue Area)
Home to Bilbao's San Mames stadium, Indautxu is always packed on game days and is the best place for sports lovers. When football isn't on, this is a peaceful and wealthy residential neighborhood that is popular with families.
Most people come here to enjoy a nice lunch or sip a cup of coffee at one of the quiet cafes situated along the river. 
Getxo- (Off Map)
Although Getxo is not technically in Bilbao, it is easy to reach by metro from the center of the city. This affluent suburb is one of the wealthiest in the country but it is worth a visit for the multiple sandy beaches located here. 
This is where everyone in Bilbao goes to escape the summer heat or enjoy a walk along the water. Seaside cliffs with windmills, art installations, and local bars and restaurants make Getxo a welcoming respite from the busy city.