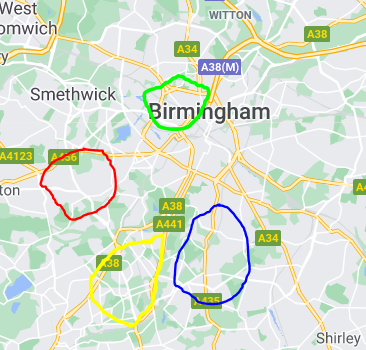 Green Zone – Situated right in the middle of the city, the Jewellery Quarter is a booming urban neighbourhood with lots to do and even more to see. The neighbourhood is packed with energy and is a popular tourist spot, mainly for its enormous, sprawling range of shops and locations perfect for picking up luxury goods and gifts. The Jewellery Quarter is appealing to a wide demographic of people, providing everything from shopping to delicious food to cosy bars and a great historical feel.
Red Zone – Being only about fifteen minutes from the centre of the city, the Harborne neighbourhood is an absolutely fantastic, family-friendly location with lots of options for eating, meeting with friends and just chilling. Visit Boston Tea Party or stroll through the high street to visit unique, independent retailers. Harborne has a lot of activity centres and sports grounds to keep you occupied during your stay. If you love swimming, Harborne is a great neighbourhood for you. The many coffee shops and cafes in Harborne also make it a great location for caffeine-addicts.
Yellow Zone – Bournville is very popular for its chocolate industry. The town was founded by Cadbury and visiting Cadbury World during your stay is a must-do. The factory has been in business since the early 19th century and now offers a wide range of chocolate related activities. If you're interested in the deep history of the Bournville neighbourhood, be sure to drop by the Selly Manor Museum. Bournville's popular festivals, parks and historical architecture makes it a cultural hotspot, popular for tourists who have taste. So, if you love history, chocolate or relaxing, Bournville is the ideal neighbourhood for you in Birmingham.
Blue Zone – King's Heath, five miles south of the city centre, is calmer than the crowded middle of the city and is spotted with parks and squares. If you love music venues and an upbeat culture, King's Heath is a great tourism spot for you. Make sure to visit the Hare and Hounds music venue and keep your eyes peeled for the farmer's market. There are a lot of dining options in Kings Heath and the neighbourhood is full of outstanding shopping options, so schedule off a day or two to stroll about and visit the vast array of shops!