This mapee covers the main tourist areas in the central part of Boracay Island, Philippines.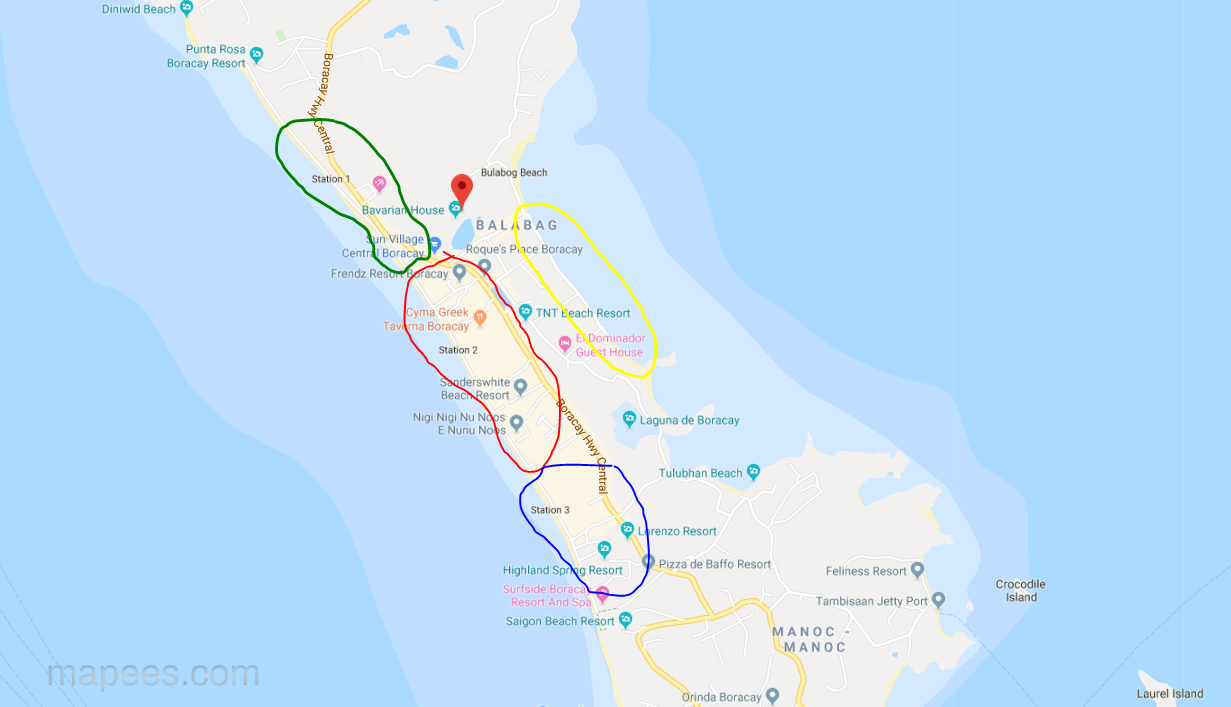 Green Area: This is the area known as Station 1. This is a more quiet part of the tourist area (compared to Station 2). It probably has the nicest beach on the island, if you are into really clear waters and smaller crowds. There are a handful of decent restaurants and bars on the beach. The most notable landmark here is Willy's Rock. This is a rock close to the shore, with the Virgin Mary statue on it. It is perhaps the most photographed place on the island.
On average, accommodation options cost slightly less than nearby Station 2, and slightly more than Station 3.
Red Area: This is the Station 2 area. This is the heart of all tourist activities and concentration. It is a more crowded part of the island, and has the most accommodation options. Primarily hotels, with a few airbnbs in the mix. The beach is decent, though a little crowded in general.
The beach is lined with a large number of restaurants and bars. A few night clubs are thrown in too. Station 2 is ground zero for tourists, so expect to pay tourist prices.
Blue Area: This is the Station 3 area. This is also another quiet area of the island (again, compared to Station 2). There are less tourists here, and accommodation options are less expensive than Station 2. If you are trying to be away from the hordes of tourists in the center, then this area might serve you well. There are more locally priced restaurants around here as well.
Yellow Area: This is the Balabag beach side of the island. It is on the opposite side of Station 2 beach, and is quite the opposite of what you would find on the rest of Station 2. This is a very quiet beach, however, the water has a significant amount of vegetation in it. This makes swimming in it unpleasant. The beach is lined with quiet hotels and resorts. This place can be a bit tricky to navigate to at night, as the general lighting is poor. Packing a torch light would come in handy if you choose to stay here.

Transportation on the island in general is mostly limited to tricycles.