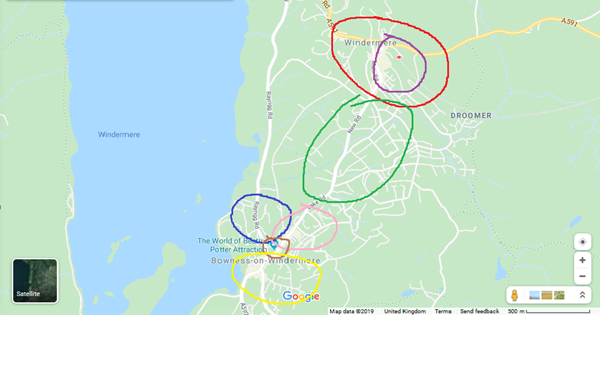 In the UK, Cumbria in the Lake District is a major tourist attraction receiving well over 19 million people every year. They come for the natural beauty of the Lake District. The barrow open fells, the rolling hills and towering mountains.
Nestled in between the hills is Bowness on Windermere. It's a small British town on the shore of Lake Windermere. The lake measures about 10.5 miles in total length between Waterhead at the north end to the lakeside at the southern end of the lake.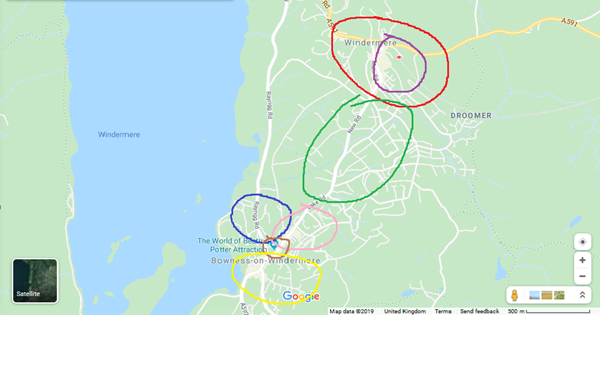 Windermere (Red Area)
Windermere is a small town, with a high street filled with lots of different shops, including tourist shops, one medium-size supermarket, plus many different bakeries, cafes, high-class restaurants and pubs. There's a new café called Brown Sugar that does delicious coffee and cake. Down the side streets, you will find many Bed and Breakfast houses.
Windermere East (Purple Area) 
Here you will find row after row of hotels and bed and breakfasts, along with the occasional pub.
There's also a train station here with railway links to Kendal. From Kendal, you can get trains to London and anywhere else in the UK. Even outside the station is a bus stop. You can get buses all over Cumbria from here.
Right next to the station, there is a shop called Lakeland that sells everything from high-class teapots to hovers, take a look, but bring your wallet it's quite expensive. There's a café on the top floor which makes a beautiful cake.
Southern Windermere (Green Area)
Down this road, there's a massive row of more hotels. These hotels are high class and are for the people with a slightly bigger budget. Also, there's a beautiful park. And some lovely walks, but you'll have to look out for the wood public signs, as the map won't show them, sorry.
Northern Bowness (Pink Area)
At the top of Bowness, there is a cinema called The Royalty. It shows the most recent films on a daily basis. Near the cinema is a car park and opposite the cinema and the car park is some clothing shops, along with a Chinese restaurant and an Italian restaurant. Further down the road, there are more eating places and two pubs.
Peter Rabbit Attraction (Brown Area)
This attraction is suitable for children. You get to do an activity booklet throughout the whole of the attraction, and there are gardens and a museum. There is also a lovely tearoom and an extensive gift shop catering for all Peter Rabbit needs!
Rayrigg Water Sports(Blue Area)
On the shore of Bowness, there is a water sports centre. You can see so all sorts of water sports from here including canoe, rowboat and there's also a large playground for children nearby. Also, they run Boating trips up and down the lake on a diesel fuel boat, which is nice. You get to see all the little islands on the lake and local wildlife.
Bowness on Windermere(Blue Area)
In Bowness's centre, there is a pavilion surrounded by a children's play area. There are ice-creams vans parked on the side of the road and tasty fish and chips shops by the water's edge. There are small Tesco's and Costas further in the village along with more pubs and eating places. You don't have to walk far to stumble upon a pub, bar or hotel in Bowness. Also, there is a bus station by the water's edge, with links to anywhere in the Lake District.