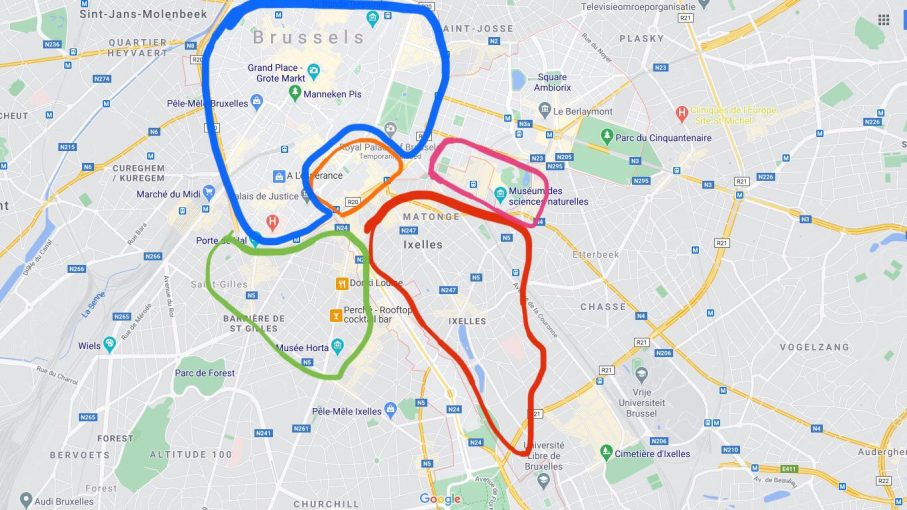 Brussels is a very exciting city offering many historical landmarks and entertainment venues. You can walk to pretty much anywhere in Brussels, especially if you are at central, however you'll have many transportation options, including tram, subway, bus and taxi. You'll have to get yourself a travelcard for public transportation.
Brussels-City (Blue Area)
If it's your first time in Brussels, Brussels-City known as the City Center will be a great choice for accommodation. Here you'll see a town square surrounded by historical buildings with mesmerizing architecture. The center offers many traditional restaurants with varying prices, which will give you a taste of Belgian cuisine. There are many museums within a walking distance, so you can plan a day of walking and sightseeing. Great for nightlife and it's safe to walk in the evening as well.
Ixelles (Red Area)
Another great area to stay with varying prices. This is a less touristic and welcoming neighborhood. Here, you'll get a taste of the diverse local community in Brussels and get lost in many unique cafés, restaurants and shops. Safe neighborhood to stay and walk in the evening. Offers many Belgian pubs, bars, nightclubs and live music that attract a crowd. This neighborhood will make you want to move to Brussels.
Saint-Gilles (Green Area)
Saint-Gilles is a residential neighborhood, popular for its art galleries and museums. Artsy, trendy and multicultural neighborhood that is great during the day. But it's not safe to walk in the evening and at night. I wouldn't recommend an accommodation here, but it offers some boutique hotels and budget friendly accommodation options.
European Quarter (Pink Area)
This is a trendy, international and safe neighborhood, offering green spaces like the Cinquantenaire Park, shops and restaurants. Offers many accommodation options with varying prices. Since this is an international area, you'll be able to explore many different cuisines here. If you're a foodie, would recommend spending a day here.
Sablon (Orange Area)
More luxurious and expensive neighborhood located close to city center. Accommodation here would be expensive, but if you're not on a budget staying here can be a great experience. Offers many chic restaurants, chocolate shops, as well as art galleries and museums like the Magritte Museum, which you should definitely visit.