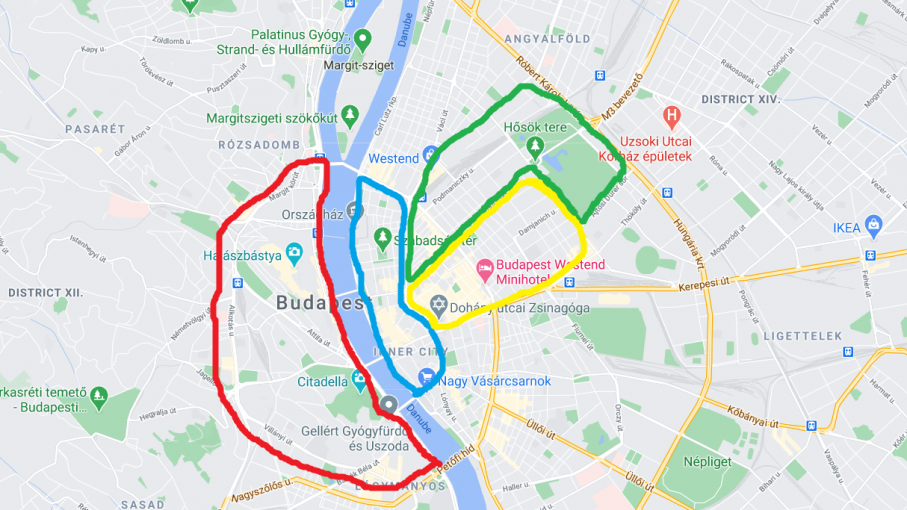 This mapee covers the city of Budapest and all its main neighborhoods which are worth visiting, each one having its own charm.
Red Area:
The red area on the map is the 1st District or also called Castle Hill. You can ride the cable car up to the castle and explore it or go to Fisherman's Bastion and enjoy the amazing view that it offers of the city.
This area is mostly historical and residential, so there isn't much to do except visiting the beautiful historical buildings. You can be accommodated in this area, but options are limited and more expensive.
Blue Area:
This area represents the downtown and it the 5th District or also called Belváros. This is the heart of the modern city and it is the home of many main attractions. You can visit the Parliament, the great Basilica, or just walk along the Danube promenade. Moreover, it is a great shopping place with its Fashion Street where you will find lots of local and high-end fashion shops. Accommodation is more expensive here, but it is the best location possible.
Green Area:
The green area consists of 6th District or as it is called Terézvaro. All in all, this area is the best one to look for accommodation. It is an extension to the center which means that it is well developed and there are many places to choose from.
Walking around this district will also give you the sense of Budapest's great architecture journey all around you as you walk along the big, wide boulevards.
In addition, this is a favorite area of many tourists because just at its edge you can find the amazing Széchenyi Thermal Bath which are more than worth visiting and spending a whole day pampering yourself and enjoying the hot water.
Yellow area:
This area is the 7th District of Budapest, or also called Erzsébetváros. This is the Jewish part of the city and has amazing history everywhere. It is also the place where you will find amazing nightlife. There are many pubs and bars all around but the best ones to visit are the "ruined pubs" because each one has its own story. It is not considered as the safest area but it does offer the cheapest places to stay if you are a budget traveler.