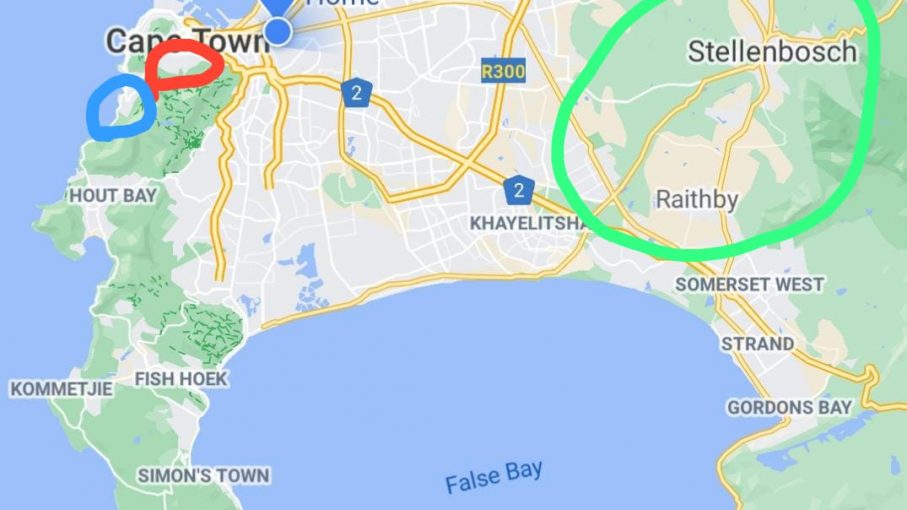 Red Area
This includes the Cape Town City Centre or fondly called Cape Town CBD (Central Business District). This is the heart of the city and the most busiest part of the city. It is where you'll find all businesses, from the head offices of large companies, meseums, restaurants to night clubs, and will also find the House of Parliament of South Africa (it is rumoured that the President of South Africa always leaves the capital in Pretoria and comes to the Parliament House whenever he wants to address the nation). Cape Town CBD is almost famous for the African and European vibes such as heritages, sounds and craft. The CBD also has the Cape Town Taxi Rank (where you can easily get taxis to any location) and also has bus terminals for pay for buses going to long destinations out of Cape Town. There 5 areas or streets that make up the CBD with Adderley Street being most vibrant and the middle street of the CBD. The other areas/streets include Strand Street, Company Gardens, Foreshore and Bokaap. The CBD though a nice place for tourists but it is ideal mostly for businesses.
Blue Area
This includes Camps Bay. A place known for its fine white sand beach and natural rock swimming pool. It is an ideal place for getaways and the best place for beach lovers. Having one major street that goes through it. It also has a wide range of restaurants serving seafood, cafes and patios overlooking a promenade cocktail bars. It also has a beautiful theatre for drama, musicals and comedy.
Green Area
This area includes Stellenbosch. A town whose streets are shaded by Oaks and it being surrounded by the two mountainous nature reserves of Jonkershoek and Simonsberg and it also surrounded by the very vast vineyard of the Cape Winelands. Having also a great educational institutions such as the University of Stellenbosch, hence it is known as a university town. The oak-shaded streets of Stellenbosch are all lined with boutiques, restaurants, cafes and art galleries. The Stellenbosch municipality includes Stellenbosch, Pniel and Franschoek, Johannesdal, Raithby and Jameestown. It is the oldest town second to Cape Town in the Western Cape Province.