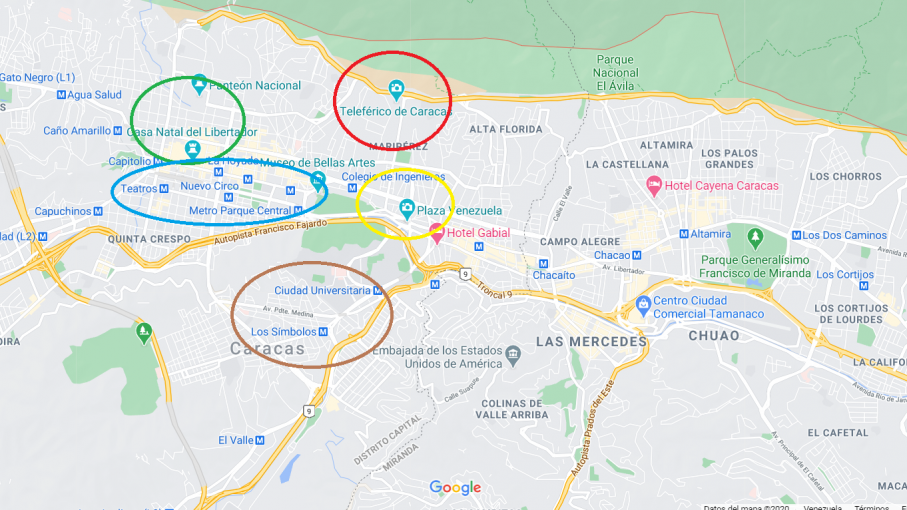 Green zone
This part of the city is very special, it's the historic heart of Caracas. It's a great spot for tourists, because of the museums and more things like the glorious cathedral. The place is generally beautiful, with its colonial houses and old streets and the restaurants that have all the best traditional food. It's a well-organized zone that's aligned with the center of the city with the best transport the city can offer.
Blue zone
Around here is where the culture of the city blooms. The two most important cultural places of the city are here, the Museum of Bellas Artes, and the Theater Teresa Carreño. So it's a really lively zone in daylight and also in the nighttime. There's always something to do, it's a pretty busy zone but it's the heart of the entertainment, and it's best to take your time walking around, and you should be warned about the heavily cramped public transport.
Red zone
Here is where you will truly find the main attraction of Caracas. This city looks up at a mountain called El Avila, and in this area is the cableway that takes tourists and locals up and up the mountain. Because it's near the city's greatest attraction, it's a zone taken well care of, with good transport, plenty of restaurants, and it serves well to the residential areas nearby, the few nice neighborhoods that have found a nice middle ground in the city. It certainly is a little quieter than the previous zones.
Yellow zone
This is where you get down to business, the center of the city. Around here are all the most important buildings that deal with politics, economy, all the banks, all the official structures. But it is attractive too, because it includes all the best restaurants and hotels, plus what is known as the core of the history of the city, the main park, all surrounded by the biggest buildings. It's incredibly busy, maybe the busiest part of the whole country, so there's always many people and transport it's difficult.
Brown zone
Last but not least, this is a very important part of the city. Not only you will find what is known as the University City, which is where all the main buildings related to the local University are. It is full of students, there is art, there is some politics involved, and it's a very active zone. But also, here begins the very best of the residential neighborhoods of all of Caracas. These neighborhoods are more quiet, protected, and surely beautiful. Definitely a powerful zone.