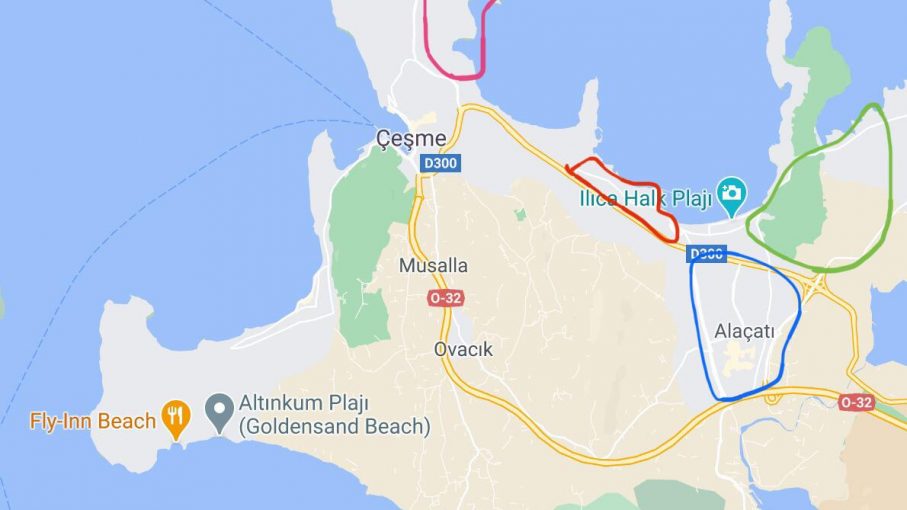 Cesme is a beautiful summer resort in Izmir, Turkey with a peak season between June and September. The most convenient way of transportation would be renting a car at Izmir Airport (ADB). It's approximately a 1-hour drive from Izmir to Cesme so taxi would cost a lot.
Ilica (Red Area)
A neighborhood which is both touristic and residential. Has a couple of small local restaurants and bars which are mostly affordable. Ilica offers some bargains for accommodation, which makes it a great choice for staying at a hotel here. Has a crowded but huge public beach, you should go there early in the day to avoid the crowd. It is a very safe area, mostly populated by locals. This area doesn't have a great nightlife though, it's best for calm days and evenings.
Alacati (Blue Area)
A touristic neighborhood offering some degree of authenticity. This neighborhood mostly consists of pricey boutique hotels, bars and restaurants. If you're looking for a more luxurious hotel, Alacati is your destination. It's the most popular shopping destination as well. You'll see many local vintage and modern shops and authentic jewelry stores. Don't forget to bargain cause otherwise you'll be overcharged. This neighborhood never sleeps, is great for nightlife and is safe to walk around during the evenings. Best public beach near here is Deliklikoy with a great view. You should bring your own parasol and food, because there is no facility there. Better for a quick swim.
Sifne (Green Area)
A purely residential neighborhood offering a slow-paced lifestyle. The neighborhood is mostly formed from two story villas and a few casual restaurants. Very safe neighborhood that will give you a taste of the local life. If you're planning on a longer stay and want to live like a local, Sifne might offer some bargains for renting a villa for a few weeks or the whole season.
Dalyan (Pink Area)
Has a fisherman town vibe. Mostly affordable, safe and a residential neighborhood with couple of seafood restaurants. The sea here is very cold, which is great for hot summer days. You should go to a beach club here during the day and enjoy a nice affordable dinner in the evening. You can take a minibus from central Cesme or drive to come here.