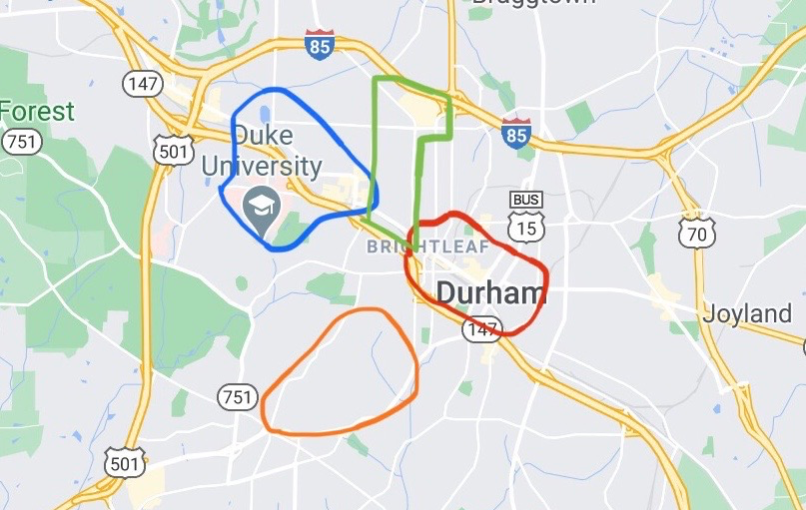 Durham, North Carolina is a hip southern town offering a different perspective of the South. It is recommended to rent a car at Raleigh-Durham Airport (RDU). Alternatively, Uber or Lyft would be convenient to travel between different neighborhoods, but it would also be pricey.
Downtown (Red Area)
Downtown offers the most of Durham's hotels, rooftop bars, bars and fine dining restaurants. Even though the crime rates have been on a downward trend for the past decade, it is not safe to walk during the evenings. But I'd still recommend staying at a hotel here, because it's the most central neighborhood and you'll still be able to explore other parts of town easily. There are also varying prices for accommodation, so you'll find something convenient for you. Must go place is Brightleaf Square.
Old West Durham (Blue Area)
This neighborhood offers cheap and delicious food, hiking trails and botanical gardens. You can find many attractions here, great for families and kids. West Durham is also a trendy area with a great nightlife. Duke University is also based in this neighborhood which you should definitely visit. But the neighborhood only offers long term housing mostly targeted at students or university staff, so you'll most likely fail to find a place to stay for a vacation here. The neighborhood is mostly safe to walk during the evenings.
Lakewood (Orange Area)
Residential, suburban and mostly safe area located south of Downtown Durham. It is a walkable neighborhood and a growing area with new cafés and experimental restaurants specialized in Southern cuisine. There are also many thrift stores in this area. You can only find Airbnb accommodation options with relatively convenient prices. Safe neighborhood to stay and not too far away from Downtown.
Trinity Park (Green Area)
Trinity Park is a suburban, gentrified area and it's mostly unsafe especially in the evenings and at night. Still, there are some relatively affordable restaurants and cafés you can go during the day. Trinity Park also has Airbnb options only for accommodation, but I would not recommend staying in this neighborhood. Mostly for students. Better for a day visit.