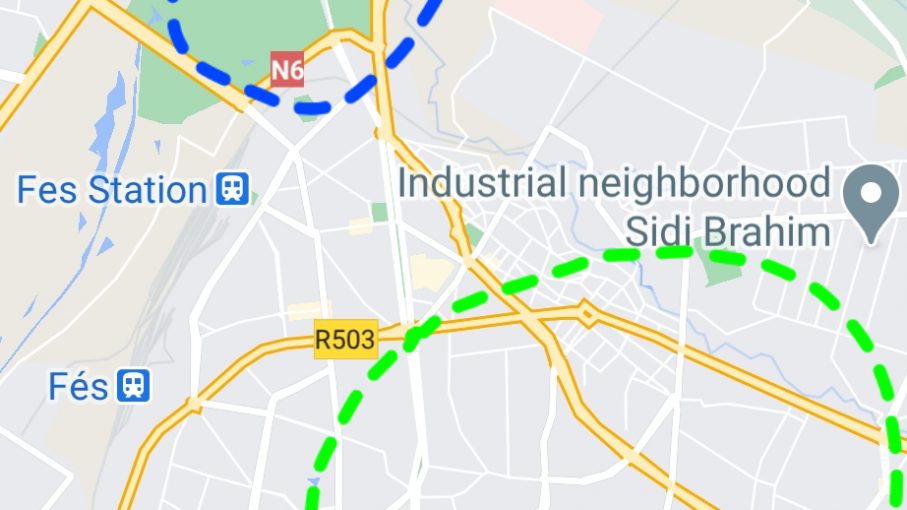 The Red area: It is the most ancient part of Fes and from where the whole city actually began. It includes Hay Al-Fokh'arin or the Potter's Quarter as well as Hay Al-Attarin meaning the perfumers' neighbourhood which is a 2-min walk from the University of Quaraouiyine. About a $2 bus ticket from Fes-Sais Airport to be more precise. As soon as you step foot in it, you get mesmerized by the smell of homemade perfumes as it includes shops of locals perfumers, where the scents of various herbs and medicinal plants are emitted everywhere. This area is known for being warm and humble in each and every way possible. Residence in it is available and never too expensive: maximumly $30 per night or even less. In case no residency is found, the locals will gladly host you as hospitality is one of Moroccans' traits. Transportation by bus or train to Fes Centre is also available every other hour. There are also so many restaurants on every corner so there wouldn't be any sort of 'I'm hungry already' issue. Usually, there is no nightlife or clubs in this area as its traditional vibes take over so you would mostly find small gatherings of people playing the drums, chanting, and dancing every now and then especially in certain religious ceremonies. Wandering around at night is also safe but be careful of thieves and avoid empty palaces.
The Blue area: Probably the most famous one in Fes as it includes Moulay Abdallah quarter and El Mellah which is an area mainly for Jews. Being a UNESCO World Heritage Site makes it very touristy as tourists come to it from all over the world. Beautiful, welcoming, and warm experience. There are also hills to watch the sunset and you absolutely should give it a try. You will get to meet many solo foreign travelers vlogging their experience in this place. It is most definitely also known the most for 'Dar Daba'ghin' which contributes to providing leather for the manufacture of clothes and leather accessories, which are very popular.
The Green Area: This area is a whole another 'vibe'. Away from antiquity and historical ruins, Fes Centre is where most hotels, modern institutes of languages, malls, and coffee shops reside. You wouldn't have to pay $50 per night and in some hotels, it is even cheaper. It is also easily accessible to visit the city's attractions. Shops of natural herbs are on each and every corner as well as restaurants and coffee shops. You get to experience the typical traditional Moroccan cuisine, as well as the Western one. The people are so warm, friendly, and would welcome you with whole love and kindness. Also, travelers usually camp in this place exactly in the Ain Chkef forest. Although it is so beautiful, you absolutely should avoid camping in it all alone.