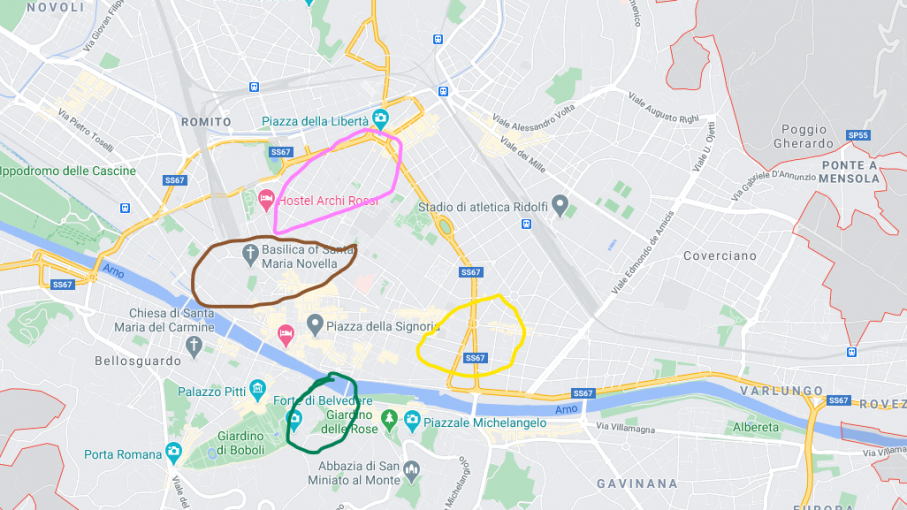 Yellow zone (Sant'Ambrogio)
This area will definitely give home vibes. You feel very safe and chill out here. Even if it's not the most beautiful place in Florence, it is very good for staying here like a tourist. I can guarantee you will feel welcomed. If you want to enjoy your time, you can visit a lot of nice cafes and Italian food restaurants. The only thing I didn't like is the market because it becomes very crowded and urban.
Green zone (Santo Spirito)
The best thing about this neighborhood its style of it! I love the bohemian vibe and design. It is so fabulous in the daytime, as much as at nighttime. Also, you can visit their church. From personal experience, this place is very popular and for me, it's a must-see in Florence. It is also okay for booking a room or hotel here. You can find good prices and you have a lot of things to see. Be aware of the fact that parking lots are a problem, and you should check it before you go with your car or vehicle
Pink zone (San Marco)
Very urban place. You are surrounded by tourists and the locals at the same time because of this San Marco piazza. I personally do not like that but it's great because everything is near this area. It's located in the heart of Florence. Traffic can be a problem if you do not like to wait. I waited for half an hour. Very good food, I visited a couple of restaurants and they were very nice. Also, you can book very cheap hotels with great offers. Its budget area and it's great for the money you give!
Brown zone (Santa Maria Novella)
The traffic is so problematic! Parking is the struggle in the whole of Florence, but here especially! I loved visiting Santa Maria Novella, but be careful with traffic. Also, you should avoid spending time here late at night, it can be uncomfortable and unsafe. Anyways, even if it's not a perfect place to live or stay for a couple of days, you can have a great time visiting it and spending your lunch time.