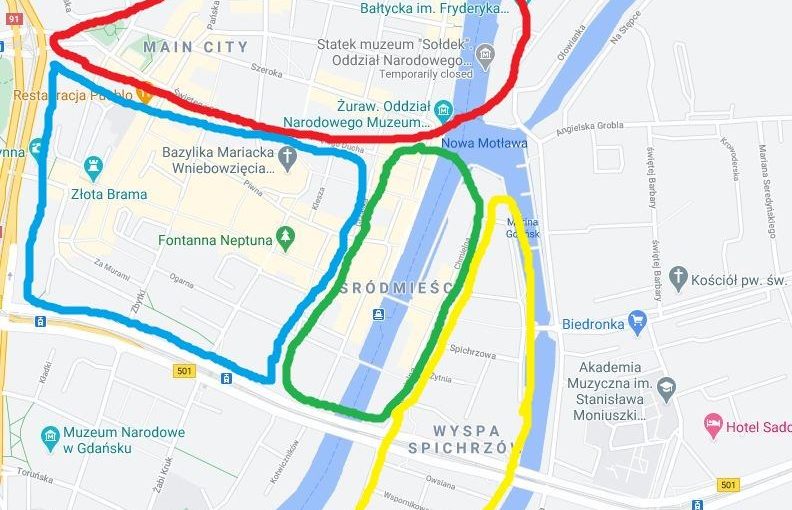 This mapee shows the main areas of the city of Gdansk. Gdansk is also a part of the Tricity area of Poland which consists of Gdansk, Gdynia and Sopot.
Blue area:
The blue area represents the Old Town of Gdansk. It is my favorite part because of the architecture. Walking around the streets my gaze was always glued to the buildings and landmarks around. Everything is done colorfully and in amazing architecture styles. This is the area to wander around and explore if you are visiting Gdansk for the first time.
Therefore, if you are looking for accommodation close to the main city attractions then this is the place for you and the medium price ranges are worth the location. As for transport, the only thing you can use here is taxi which can be a bit pricey since the streets are often narrow and one way. However, I believe that everything you need to see here is within a walking distance.
Green area:
The green area is also called Sródmiescie and this is the busiest part of the city. It runs along the river bank and has many beautiful landscapes. I love the river bank in Gdansk since it is unlike any other I've seen. The authenticity of the attractions has been kept so well that you can sense what life was like in the past.
Moreover, this area is the best one for nightlife. It has lots of bars and pubs and some are especially dedicated to vodka. Taking this into consideration, it might not always feel as the safest area. However, the streets are quite busy and crowded so if you keep to yourself you should have no problem.
So, if you are a party-goer, yet still want to be close to the city center then this area is the best choice for accommodation. Prices are a bit more expensive, but it is close to all best spots.
Red area:
The red area is the residential part of the Old Town of Gdansk. There is not much to do around here except spend some time in the great nature in the parks found close by, or have a cup of coffee at the local places.
However, this is the best area if you are travelling on a budget. Accommodation prices are low yet you're still close to the main town and all it has to offer. In addition, it is well connected to the city with public transport and it is the area closest to the train station if you are visiting another city.
Yellow area:
This area of Gdansk is also called Wyspa Spichrzów. Walking along it you'll lots of buildings dating back to the 14th century with amazing details and astonishing architecture. This area offers the best accommodation for families because it is much calmer and quieter than the city which is located just on the other side of the river.