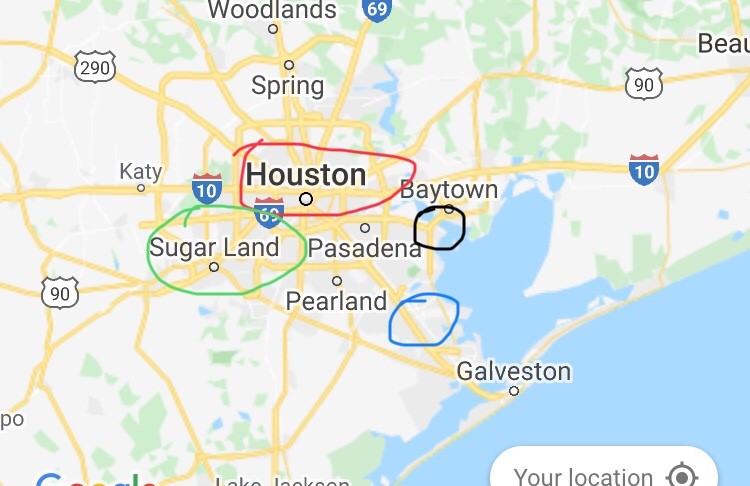 Houston (Central) (Red)
Houston is a remarkably busy and thriving city. Therefore, staying in an hotel near the city centre is extremely useful for transportation links. I would suggest a hotel that is known (but it does not have to be too expensive) such as a Marriott Hotel. There are several bars to go to in the city centre at night time. Some of the best ones are, Howl at the Moon and Truck Yard. The main shopping area is the Galleria which is the largest mall in Texas and it is situated near the centre. Food wise I would try crawfish because as a European, this is not readily available. January to July is normally peak season for delicious crawfish dishes in restaurants. In addition, the TEX-MEX food is the perfect mix between American and Mexican food and is immensely popular in Texas. Definitely try the chilli con queso. Furthermore, the aquarium is also a fun day out. There are various to choose from around the city centre.
League City (Blue)
In addition, if you are a space nerd, you will really enjoy the space centre. There are not many places on earth you can visit that give you the real experience of what space life is like. Being at the heart of where space shuttles were launched is an unreal feeling. In addition, there is a museum nearby so if you go there you can learn more about NASA.
Sugar Land (Green)
Funplex is an amusement park in Sugar Land and is a great place to take children. It has many games and rides to offer, and is a fun family day out. There is also a waterpark in Sugar Land which is a fun trip out and accommodates children of all ages. Sugar Land offers a few activities for younger children if you want to venture out of the city. Other than that, there are a few parks around, but Sugar Land is more of a neighbourhood then a place for tourists.
Sylvan Beach Park (Black)
This is the closest beach to Houston and has white sand-no pebbles. It also has an amusement park near the beach with several rides. In addition, here you can go on boat rides/ tours. You can also be taken out by boat to go fishing.
Overall, Houston is a great place to stay if you are interested in space and want to explore another city in the US and have fun.