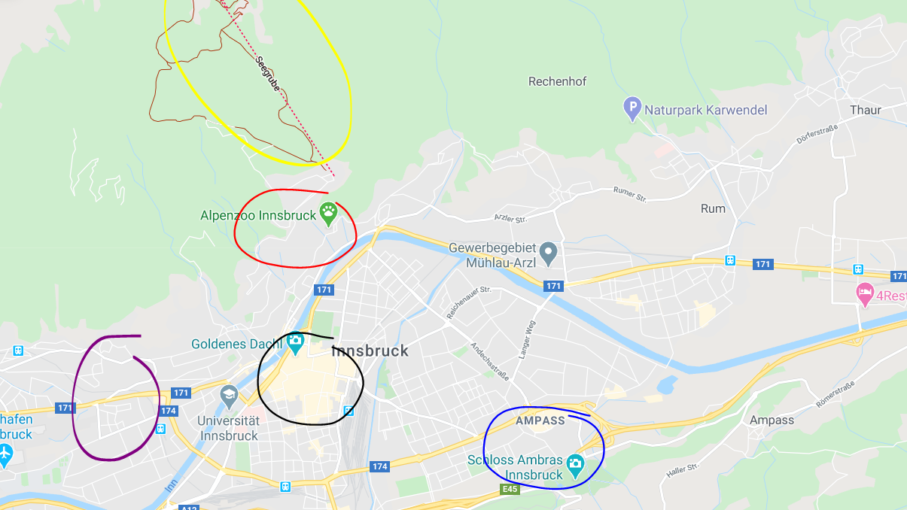 Known also as the Jewel of the Alps, it is a great skiing in the winter and a hiking place in the summer, enjoyed by both locals and expats equally. It is a beautiful place to camp in the summer and enjoy the amazing view from the mountaintop, and a heaven for those who enjoy winter sports. Nordkette is also located in the largest Austrian nature park called Karwender Nature Park, a perfect place for all those loving the great outdoors.
Despite being often considered an attraction for schoolchildren by those who have not been there, the Alpine Zoo is a nice half- of – a – day trip for people of all ages. Located in the mountains (which ensures beautiful views and Alpine nature), it is a good way to learn about animals living in the region and seeing them in a relatively natural habitat – the cages are arranged in such a way, that often it feel like we're seeing the animals walking in the forest or relaxing in a cave in the mountains, instead of having they lay of concrete, as in many other zoos. Besides, just behind the Alpine Zoo, there is a beautiful hiking trail, leading to valleys and meadows.
The old town is the center of the city, and it is an ideal place to take a rest in one of many restaurants while drinking coffee and eating Austrian Strudel. The main street is also a stage for artists, who often perform there or present their art in various forms.
Overseeing the main street, there is the Golden Roof, the symbol of the city, which attracts both tourists and locals and encourages to learn a little bit about the history of the place.
Hotting is a predominately residential district, known for its rich and beautiful villas painted on different colors. It looks especially beautiful in summer when the trees are blooming in the villas' gardens. The Innsbruck University is located nearby, and many students can enjoy a Botanical Garden in Hotting, as well as many parks. To make it even more relaxing, the peak of Nordkette is well visible from every place in the district.
Ampass is a district located in the Southern part of the Inn Valley. The main point of interest in the region is the Ambras Castle, built in the Renaissance style, surrounded by the royal gardens with peacocks and Art museums displaying both European and international art.
Since Ampass is in the outskirts, people go there to enjoy the nature, as well as lakes and parks, which are easily accessible and are within a walking distance from each other. Located in the territory of Karwendel Nature Park, it is a popular place for people to travel to when they want to run away from the daily responsibilities.