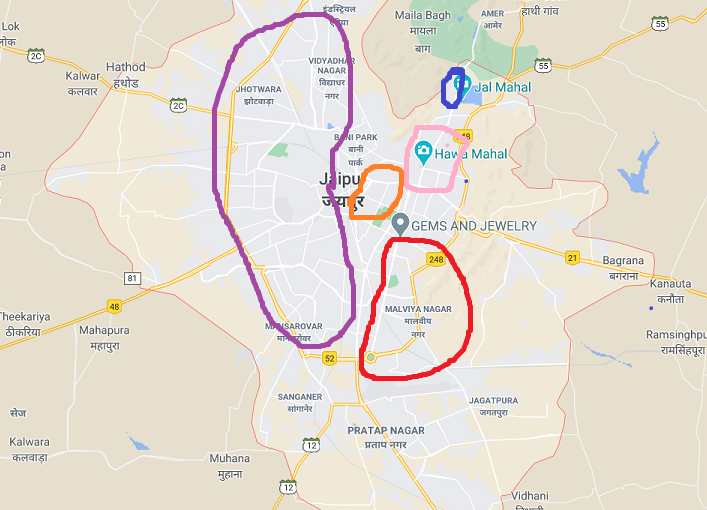 This mapee shows you around the city of Jaipur, giving a flavor of its neighborhoods. Jaipur is essentially known as the cultural capital and the Pink City.
Pink Area:
The Pink Area marks the Pink City. It is the old city where the kings of Jaipur once resided. The labyrinth of narrow bustling streets still leads to the massive and intimidating city palace.
The accommodation cost is on the lower side. And the nightlife options are simply non-existent. Although, the old city is a rare gem that still narrates the story of vivid culture and history. Just hire a local guide and enjoy a few days marveling at the various heritage sites and the forts. It is great for souvenir shopping too.
Blue Area:
Although the Pink City is the best to absorb some local culture, it is a crowded and busy place. The Blue area is a more tranquil area with some fantastic properties and is considered the outskirts of Jaipur. This area is peaceful, a bit expensive, and close to all the heritage sites and forts. Also, it offers excellent avenues to shop for the local craft.
A great memory takeaway could be spending the evening admiring the sunset and night view from the Nahargarh Fort.
Red Area:
The red area is near the Airport and is the live wire of the city. It comprises of Malviya Nagar and Jawahar Circle. Although nightlife is not something Jaipur can be raved for, this area has a couple of good options.
Other than that, it has many cafés, a couple of great malls, and more. Well, in short, it is excellent for both the young and the families.
Orange Area:
The orange area is the C-Scheme area and is the posh upmarket area of Jaipur. It is centrally located and offers options for one or two clubs. Besides, it has many cafés, and most importantly, it is close to the old city and its many heritage sites.
The cost of accommodation is from medium to pricey.
Purple Area:
The purple area is the residential colonies of Jaipur. Mostly mundane, they do have good accommodations and lively people but do not have much to see or do. But you can definitely find some cafés peppered here and there.