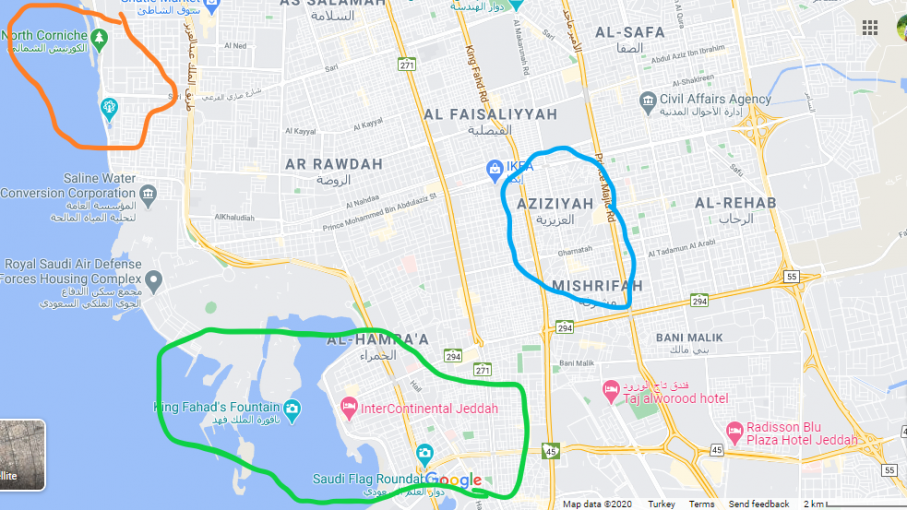 Blue circle
This area is famous for recreation and its Asian culture because it has a large population of Asian people living over here. The area is also famous for its hotels and Asian cosmetics and products markets, as well as international cuisine and seafood. There are listed some famous attraction spots which are really worth seeing. I.e. Jeddah regional museum of archaeology and ethnography, Al-tayibat city museum for international civilization. General court of Jeddah is also here.
Green Circle
This area is located near to the coast, malls and hotels. This area is unique because of the largest flagpole in the world which is located in King Abdullah Square Jeddah. This area has tourist spot like the King Fahad fountain and posh areas which are well known for their sightseeing. One of the perfect souvenir place is Tahalia Street which is famous for their fashion and shopping. It has a variety of international and local fashion brands.
Red Circle
This is one of the advanced and modern area which has the largest mall of Jeddah that is "Red sea mall" after mall of Arabia. Jeddah first cinema and kingdoms second cinema is located in this area.One of the biggest Jeddah waterfront is located in this area which has many facilities like beaches, floating marina dock, huts, dancing fountains and restaurants. This area has many famous resorts like Durrat Al-Arus, Al-Nawras Movenpick and crystal resort at the red sea cornice.
Orange Circle:
This area is also advanced and modern as well it's beautiful because of the most attractive north cornice of the beach. Here Fakieh aquarium is present which has been so far the most beautiful and first marine of its own kid. Marine life here is brought from all over the world. The experience is pleasant, and you will capture life cherishing moments here. Just near to Aquarium there is a theme park named Al Shallal Park which is the largest theme park in the region, This Park is striving to take the best theme park of Middle East from few years and its getting success too. It has huge area with various levels. It is designed for both kids and adults. You will not regret spending whole day over there. Round the theme park there are few restaurants plus its walking distance from the beach. Hence, this area has complete surprise package for you.