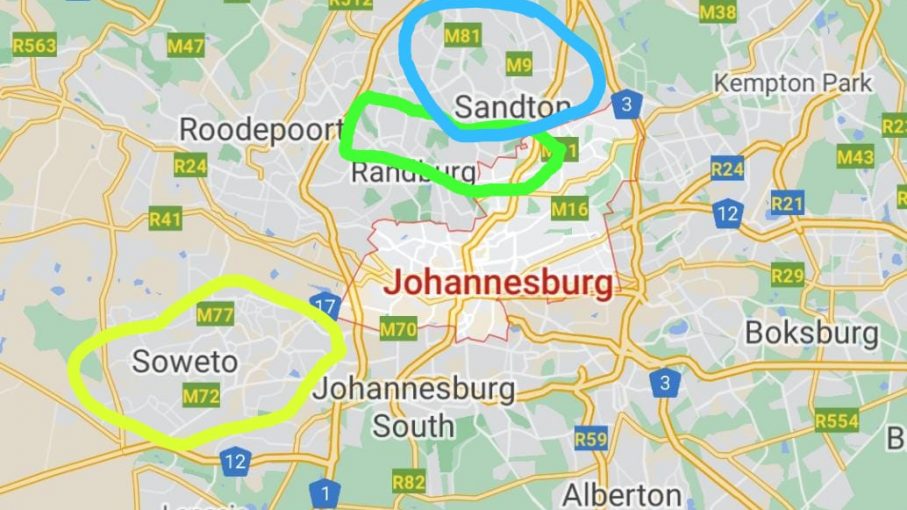 Red Area
Johannesburg CBD (Central Business District) the central location of Johannesburg is the best location for residential and commercial development. This area was once classified as a whites-only area during apartheid. Here you will find Carlton Centre, the second tallest building in Africa and the tallest office building in Africa, a 50 story skyscraper standing at 223 metres (732 ft). It is also the most dense collection of skyscrapers in Africa though most of that has been deserted due to the high insecurity in this area for Northern Suburbs like Sandton and Rosebank which are more secured.
Green Area
Rosebank bank, located in region B of the city of Johannesburg Metropolitan Municipality with the OR Tambo International Airport 35 minutes away, is multi-cultured and a business centre district which is home to many head offices, pavement cafes, restaurants, luxury hotels, markets, cinemas, night clubs and art galleries. It is always alive and filled with entertainment and fun. Residents and workers are also able to walk through the district due to its compact size while exploring the exquisite and beautiful architecture with beautiful facades and buildings. It is also the location of the Gautrain, an 80km mass rapid transit railway system linking Johannesburg, OR Tambo International Airport, Ekhuruleni and Pretoria.
Blue Area
This area, consisting of two suburbs Sandown (a very leafy area) and Bryanston is a very affluent municipality called Sandton, is home to the Johannesburg Stock Exchange and the Bryanston Country Club located at the heart of Bryanston an established sporting and social centre located in an area enclosed by a majestic old tress and lush green lawn. It is also home to the Bryanston Golf Course which has a variety of the vibrant birdlife of South Africa.
Yellow Area
This area is Soweto. A city filled with cultural interaction and a popular destination for tourists it is made up homes ranging from extravagant homes to makeshift shacks and also home to popular tourist destinations such as Kliptown, the home of the late former President Nelson Mandela, The hector Peterson Memorial site and the largest hospitals on the continent. A beautiful Panaromic view of Soweto can be seen from the Chris Hani Baragwanath Hospital which is the largest on the African continent.