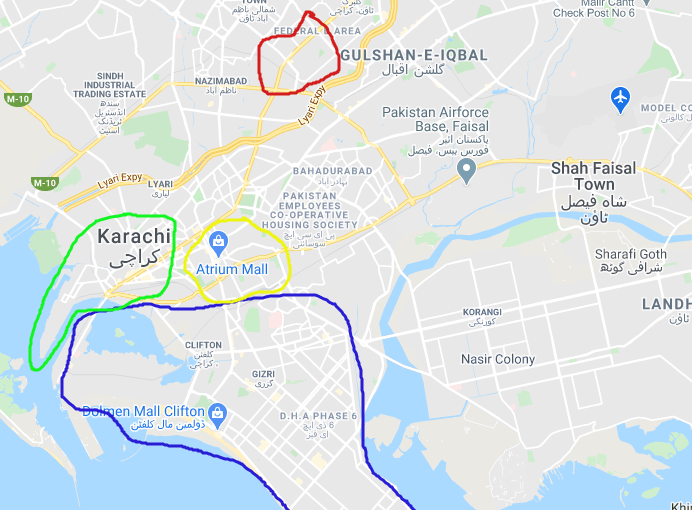 Blue:
This is the most appropriate place for a tourist to visit and find a place to reside in the huge city of Karachi. You will find the elite class of the city living in around Clifton, DHA, and the highlighted area. It has most of the city's major attractions, not to mention the restaurants of Do Darya strip with the aesthetic view of the Arabian sea where you can dine with class!
The roads are safe, and there is ample security for tourists to roam safely on the streets. You will also find the most popular Clifton Beach here, which is moderately populated at all times but try to avoid it on the weekends, else the crowd might choke you. The shoreline has iconic grey sand, which you won't find in Karachi's other beaches. From saloons to food, things are overpriced in this area compared to the rest of the city.
Red:
For you foodies out there, this is the place to be! These streets represent the actual cuisine of the people of Karachi. On the Hussainabad food street, you can find tons of restaurants waiting to welcome you. The roads are very congested, so keep in mind you'll have to walk a lot, but the food you binge on here, won't be something to forget easily. The best part about this area is that everything is pretty economical, and you can enjoy a delicious three-course meal in under $10.
Yellow:
This area includes the city's oldest market where you can buy literally anything, ranging from a T-shirt with a tiger printed on it to an actual tiger! Keep your pockets secure, though, because petty thieves are common here. You can get yourself a pretty economical residence here too, starting from just $20 per night in a four-star hotel. The area here is pretty congested and traffic during office hours is hectic mainly because the roads were carved when there weren't many vehicles in the city.
Green:
This area includes the notable Port Grand where you can have dinner with a view like Do Darya or party in the occasional concerts here. You can even opt for a relaxing sunset boat ride.
The Khadda market in this area has a very famous food street, much like Hussainabad. This area is comparatively pricier in terms of residence and food. The plus point is that there is special care of cleanliness and food hygiene in this area, not to mention beautiful and luxurious Four – Five Star hotels are in abundance here.