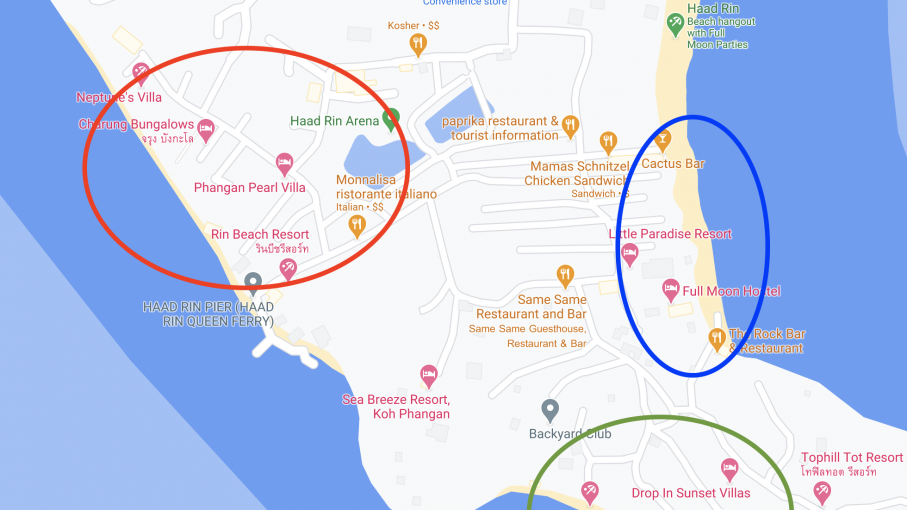 Blue Zone
Sunrise Beach
THE spot for the Full Moon parties and New Years parties. The Sunrise beach is at the heart of all the action if you are wanting to be front and centre of everything that is happening party wise. The strip is filled to the brim with restaurants, pubs, pop-up bars on the beaches and of course simple but effective accommodation options.
Not the place to be if you want any peace and quiet at any stage as this area is non-stop action.
If you are popping in and out for a special party, it is the ideal spot to book your overnight accommodation to guarantee you can get home after the party. Many of the Taxi's don't want to travel far in the early hours of the morning.
Red Zone
Haad Rin Pier
The pier is where the main speed boats and ferry's drop off all the party revellers and is a hub of activity.
There are some great places to stay right off the pier, especially if you are only spending a night or two on the island.
Be cautious of the taxi drivers, as they may want to charge you a flat rate and your resort may be 5 minutes away.
There are restaurants and entertainment close by, all within walking distance, so there is no need to rent a scooter, unless you want to go for a tour around the island.
The beaches are ok, you can definitely get some better options on the East side of the island.
Green Zone
Rin Nai Beach
Sunset beach is right on the other side of a short walk from the hectic party vibe. These resorts offer you a great view of the sea, have some quiet and privacy, but still be close enough to be able to walk to the shops, bars and Sunrise beach for the parties if you choose to join in.
Haad Rin is easy to access with the pier and taxi's available all day and all night. Renting a scooter to tour the island with Haad Rin as your base is easy.