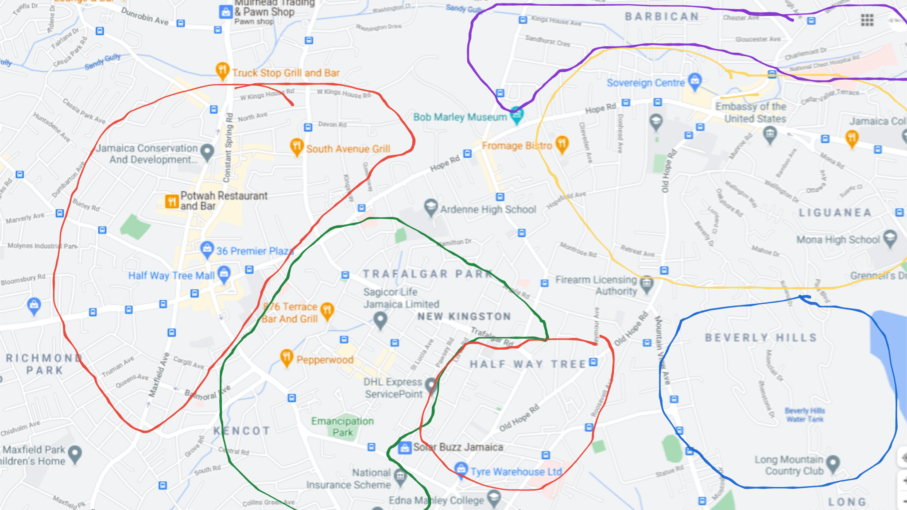 Green Area:
This includes the New Kingston area. New Kingston is literally the heartbeat of the city. There is endless nightlife and entertainment. For food and nature lovers, the area offers several restaurants and the famous Emancipation Park. The area is highly developed and the heart of the city's commerce but offers peaceful and high-end accommodation. It is typically safe to explore.
Red Area:
This includes Half Way Tree. It is the center and capital of the city. This area offers even more nightlife and entertainment than New Kingston. Accommodation here is usually more affordable, especially in the outskirts. It is generally busy with daytime commerce and is home to several of the city's most visited stores and plaza. For those who love to interact with locals and have a feel of how they live, then this area is ideal for that.
Yellow Area:
This includes Liguanea. It is minutes away from both New Kingston and the capital. Nightlife activities and entertainment are a bit more limited in this area. It is more popular for its variety of restaurants and amenities such as supermarkets and pharmacies that offer a wide variety of products. The area is really a mixture of commercial and residential properties. It is extremely safe and accommodation here tends to be upscale and expensive. For movie lovers, it has one of the city's most visited cinemas at its Sovereign Shopping Center.
Purple Area:
This includes Barbican. It is mostly an upscale residential neighborhood. This area is closer to Liguanea but can be reached within minutes from the city center. The area is fancy in terms of its accommodation but tends to have few nightlife and entertainment activities It is very safe and considered one of the best neighborhoods in the city. It still has a variety of amenities that will make your stay comfortable. Generally quiet and pleasant, this area is more ideal for visitors who prefer a more secure, serene scene.
Blue Area:
This includes Beverly Hills. Considered as one of the city's premier neighborhoods, this area is more on the outskirts and is extremely residential. It is known for its tranquility and security. It has little to no nightlife and entertainment but houses some of the city's nicest, best, and most expensive accommodations.