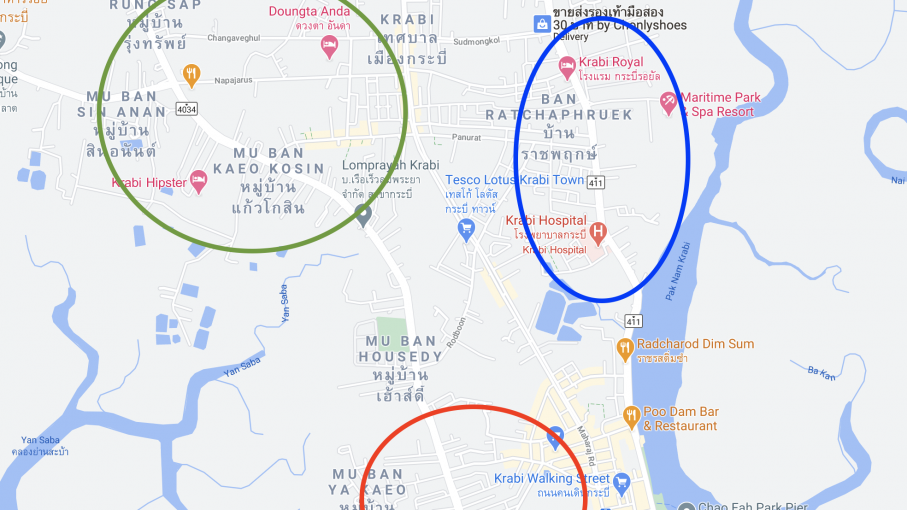 Blue Zone
Krabi Town
This busy strip of main road is populated by the well-known Krabi Hospital and has cost-effective accommodation all along the main road.
There is not much along this road apart from 7 Eleven stores and a market for some fresh produce.
There are a few great hotels including the Krabi Royal Hotel, which is the perfect place to visit if you are looking for a break from the Thai menu's of the restaurants.
Most of the accommodation along this road has a slight view of the neighbouring feeder river, but don't expect beach or views of the islands.
Red Zone
Nuea Khlong District
A tourist area close to the Leam Kruad Pier, where most Ferry's launch to and from to the Islands and tours.
The area boasts beautiful views of the landscape, including the rocky outcrops in the Andaman Sea.
The area is usually a stop-over area for tour groups with good hotels. However, it offers very little in terms of alternative food other than local Thai for fussy visitors.
There is a market on weekends close to the beach and vibrant nightlife along the strip to entertain the many tourists staying in the are.
There are not many transportation options, so you need to make alternative arrangements if you don't want to take taxies everywhere.
Green Zone
One of the main arterials into the centre of town, the area is littered with beautiful sites to see including the Ban Khlong Mosque. The accommodation options are a mixture of small overnight options like the Krabi Hipster Hotel or if you want to splash out a bit more, the Krabi Grand Place Hotel.
If you have kids, the better option is the Doungta Hotel, which has some entertainment options to keep them busy.
There are a few bed and breakfast options on the route, so if you want that as an option, then look out for them, otherwise the accommodation usually only includes a bed.
The rooms normally include aircon, but definitely make sure you check this amenity before you book, especially in the summer months.