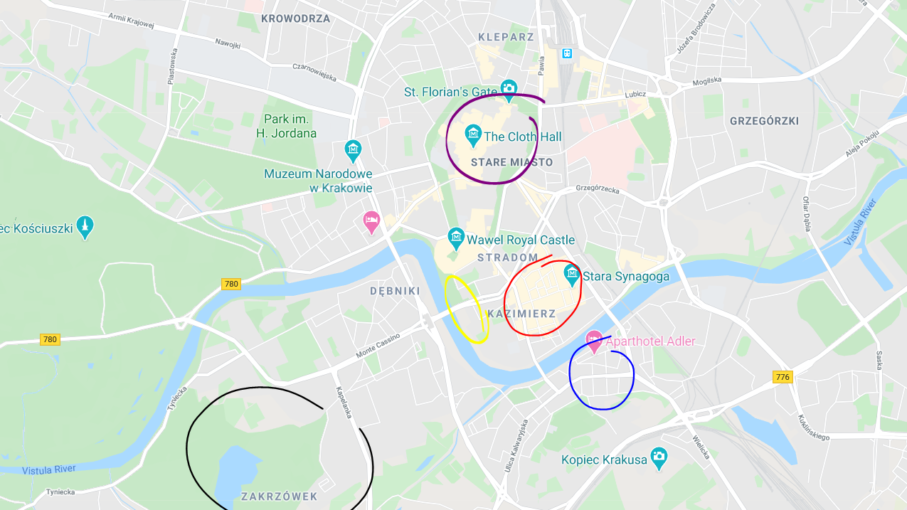 The Old Town of Krakow is the heart of the city. Filled with tourists, monuments and history, it is where people come many times a day when they're visiting the city. As a part of the UNESCO heritage list, it charms with traditional, Polish – style restaurants, renaissance, baroque and gothic art and architecture and many art galleries and museums. The cultural importance of this district is even further claimed by the fact that the oldest Polish University, the Jagiellonian University, is located just a few minutes' walk from the main Market Square.
Summer in the city doesn't need to be bad – and certainly, it is not bad in Krakow. Sunbathing or having a picnic by Vistula's riverside is a very popular activity among young people. It is not only nice to sit by the water in the shade of trees, but people also enjoy the view of the castle mound, Wawel, which oversees the life in the city. In the summer months people can also enjoy food trucks and riverside parties, regularly organized there, and enjoyed by locals and expats.
Kazimierz is a former Jewish District, which has been turned into the artists' paradise. Filled with little shops selling handcrafted souvenirs and hipster, themed cafes, it is where you go to get to know the people and to party with them in one of the many clubs and bars. However, if you are more interested in the history of Jews in Poland, worry not – you can visit synagogues and museums which will take you back in time to the times when Krakow was the center of the Jewish Culture.
Zalocie is a relatively new district, and thanks to a few art museums established there in the recent years, it has become a place for lunches and gossips with friends. Located in a close proximity from the Old Town, just at the other side of the Vistula River, it is a popular place to live and to enjoy the post – industrial architecture. Renovations of previously abandoned factory buildings and forgotten alleys and turning them into an 'instagrammable' place, was a very good decision.
Black – Zakrzowek District
For those tired of the hectic city lifestyle, the Zakrzowek District is a perfect get-away destination. Located in the South – West of Krakow, located approximately thirty minutes by bus from the market square, it is well known for lakes and mountain rocks. Greatly appreciated by outdoors' lovers and by families, it has everything you need to have a relaxing weekend outside the city – a lake, a beach, forests, caves, hills and climbing rocks. No wonder why its popularity has increased in the recent years.