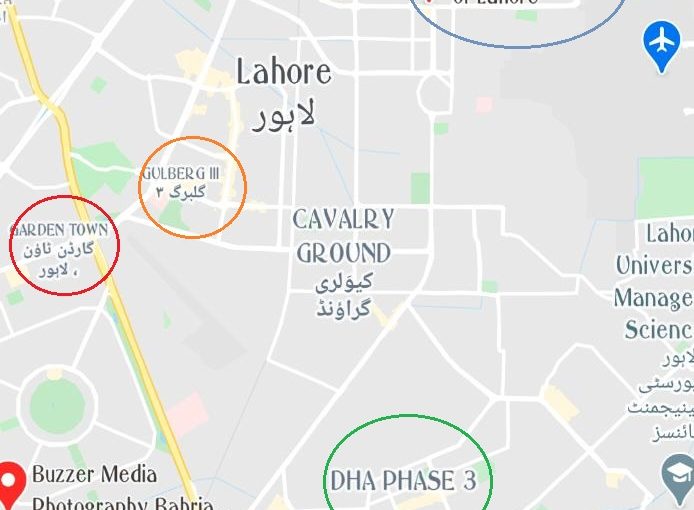 Lahore is an ancient city and situated on the side of the river Ravi. It is the capital of Pakistan's biggest province, Punjab. This city is full of many old and valued buildings like Badshahi Mosque, Shahi Qilla, and Minar-e-Pakistan. This city is known to be a heaven for tourists. There are many spots to visit, like Iqbal Park and Safari park.
Defence Housing Authority (DHA) Lahore (Green Area)
Most tourists and foreigners prefer to live in DHA because of wider streets, fresh air, and a tranquil and calm environment than the central areas of Lahore. There are many phases. Phase-I is the oldest and less developed. New phases, Phase-VI, and Phase-VII, are under development and have the best facilities of a high living standard. There are a lot of traditional and modern hotels and restaurants. Locals and visitors come to these restaurants to have a taste of famous Lahori foods.
Bahria Town Lahore (Blue Area)
This is a famous town to live for young as well as elders. Bahria town has a high standard of living and all the facilities of life. This masterpiece city is constructed along with the side of the famous Lahore Canal. Life in Bahria town is caressed with all the living standards from most conventional to the most modern one. Greenery and night lightning on roads of Bahria make it more enjoyable and charming. There are farmhouses and bungalow type large apartments. There are bars and music clubs open at night for night wanderers.
Gulberg (Orange Area)
The best and attractive place to visit in Lahore. Famous Liberty market is the main charm of Gulberg, which has many local and international stores. In these stores, you can get every necessary and branded item at a meager price. Gulberg has its appeal because many celebrities and film stars live here. Gulberg is full of greenery, and night lights make it a more attractive and enjoyable place.
Garden Town (Red Area)
An attractive and well-managed town for all foreigners and local tourists. It is located on Ferozpur Road, Lahore. Many roads are attached to it, like Osmania Road and Canal Bank Road. An excellent location, availability of all basic and advanced living facilities, and a well-managed and well-planned standard of life make it the best living place. Pakistan's best and beautiful metro and the orange train are passing through this town. A lot of people visit here with families to spend a pleasant time.