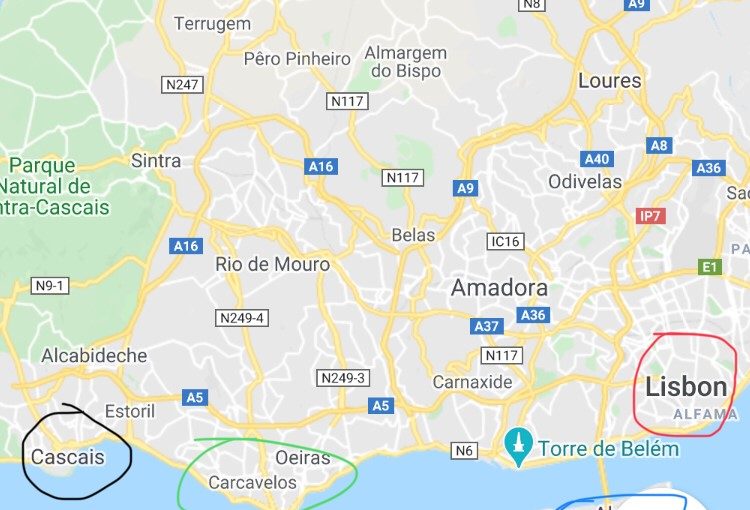 Lisbon
Lisbon's centre (Red)
As the capital of Portugal, Lisbon is a busy city. It has nice weather, perfect for a tan. It is slightly antiquated with historic buildings, but it has a popular shopping street past the Praca do Comercio. The Praca do Comercio is a great place to take a photo (near the arches). Surrounding the Praca do Comercio are many cafes to try. In addition, you can hike up to the Castelo de S. Jorge and here you can have a scenic view of Lisbon and of the red roofed buildings. There are many restaurants here and they have the famous Portuguese egg tart and have a range of delicious and fresh seafood. A great way to spend an evening would be to go on a sunset river boat. The boat takes you around Lisbon and finishes in the dock near the centre so you can see the night lights of Lisbon. This is a scenic excursion to go on especially with a loved one.
Almada (Blue)
Almada is just over the bridge from Lisbon. There is a monument here called the Christo Rei (Jesus the King) and it can be seen from Lisbon. There is not too much to see here but it offers a different angle and perspective of Lisbon.
Cascais (Black)
Cascais is known for its sandy beaches. It also has coves to explore. However, the water can be quite high and choppy. Cascais is quite a small town and has many café and restaurants to try. It should not take you that long to see the entire area. Cascais is also on the metro line so there is a direct link to Lisbon if needed.
Carcavelos (Green)
In regard to accommodation, I would try and get hotels in the city centre (around Lisbon). This is just because more is going on there. However, you can always take the metro (which is cheap) to beach destinations nearby such as Carcavelos. Carcavelos is a popular sandy beach. If city life is not for you then often people get apartments near the beach. This is so the beach is only walking distance from their accommodation. There are several bars and a couple of seafood restaurants to try on this beach.
Overall, the Lisbon areas described above, offer something for everyone. Whether that is a chilled beach vacation or a busy city life vacation, Lisbon can fit your needs.