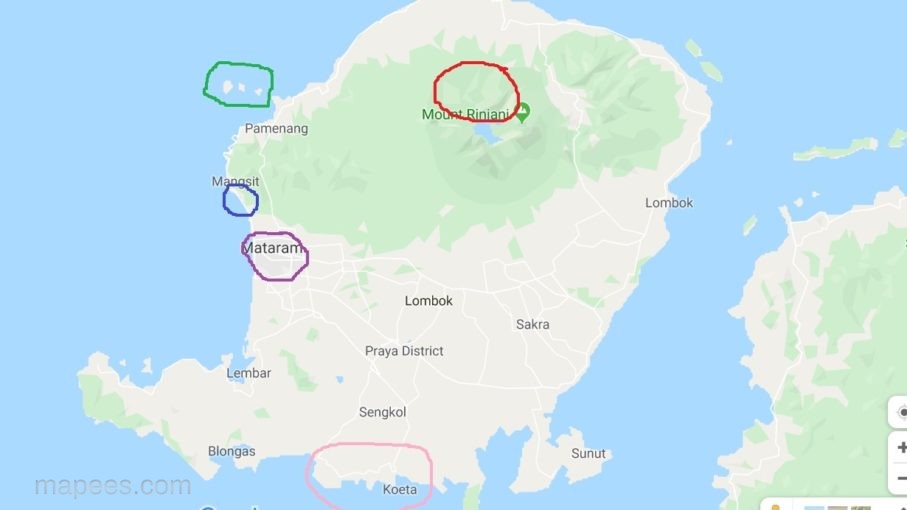 A mapee of Lombok, Indonesia.

Kuta (pink area)
The main busy area on the south of the island, this place is super popular with surfers and digital nomads. You'll find a collection of artsy cafes, boutique stores and surf shops here. While the center has all the amenities you need, the surrounding areas are quite rural and off the beaten track – literally. This area has many gorgeous beaches and tucked away bays, and the best way to explore is to rent a moped. Try out surfing and wind surfing here.
Senggigi (blue area)
This is the main tourist area in Lombok and most people stay here as it's quite central to all the different sights. Here you'll find a range of accommodation, from budget hostels to luxury resorts. There are heaps of different restaurants, street food and breakfast bars where you can find local food as well as international cuisine. There's also a good selection of shops selling souvenirs, fashion, jewelry and artwork.
Gili Islands (green area)
These three islands are just off the north-west coast of Lombok. It takes 20-30 minutes to get over there by local boat from Bangsal Harbour. These islands are the same in that there aren't any motor vehicles on them, which means no air or sound pollution. However, they're quite different to each other in terms of the vibe. Gili Trawangan (the largest one) is very much a party island. Gili Meno (the middle one) is nicknamed the honeymoon island, as it's super quiet and peaceful. Gili Air is a mix of the two, with the right balance between nightlife and relaxation. Any one of them is worth a visit for the clear turquoise water and white sandy beaches alone. Also great for snorkeling and diving.
Sembalun (red area)
This area is in the Gunung Rinjani National Park. This is one of the starting points for the trek up the Rinjani volcano. If you're not much of a hiker, you can still spend time exploring the national park. Visit the pick your own strawberry farms or feed the monkeys that hang out by the side of the roads. There are several waterfalls in this region, the two most popular ones being Senaru and Tiu Kelep. Getting there involves a short hike through the jungle and a rewarding swim at the end.
Mataram (purple area)
Mataram is the capital city and the main business district. Although there aren't many tourist attractions here, there are plenty of local markets which are a great way to get a taste of local culture. The top two markets are Ampenan Market and Cakra Market. You can find anything from knockoff brands to kitchenware to local fabrics. You'll also find the state museum here, which is a good option for a rainy day.