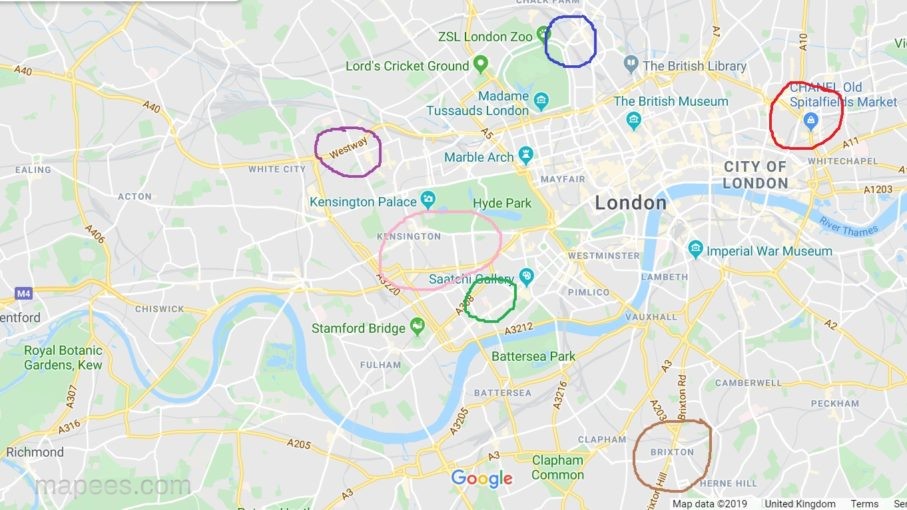 This is a mapee of London, UK.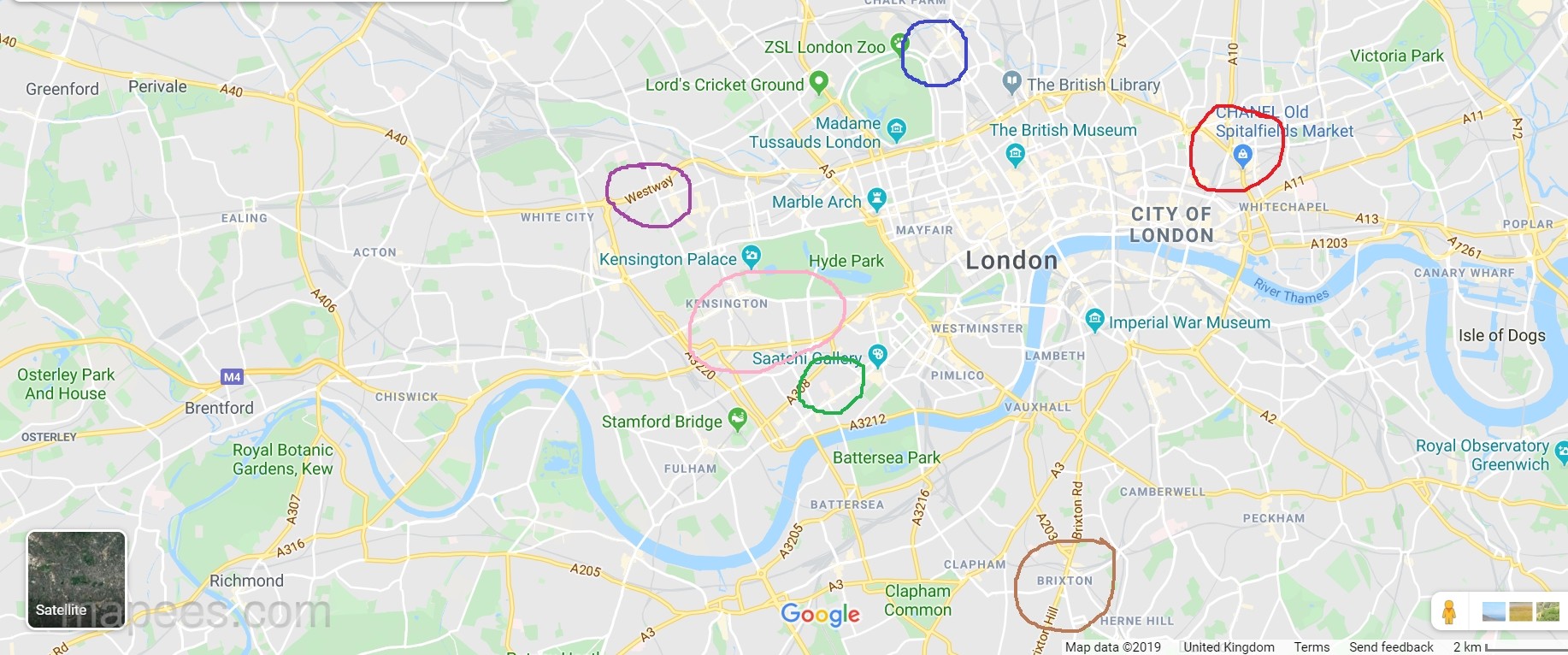 Shoreditch (red area)
This East London neighbourhood is a buzzing, creative hub full of hipsters and the artsy type. The area is packed with independent boutiques, hipster coffee shops, vintage shops, trendy bars and markets. The neighbourhood is filled with street art and warehouses converted into food halls and clubs. Old Street is nicknamed Silicon Roundabout as it attracts tons of tech startups. Check out Spitalfields market for fashion, art and food.
Brixton (brown area)
Brixton is one of the most culturally diverse neighbourhoods in London. This is reflected in the huge choice of food spots in the area. Check out the many markets, including Brixton Market, Pop Brixton and Brixton Village. Movie fans will find a cool arthouse cinema called Ritzy Cinema, one of London's oldest picture houses. Brixton is known for its nightlife, and draws crowds in for its live music scene and choice of bars.
Notting Hill (purple area)
This is arguably London's most iconic neighbourhood. Visit in August if you don't want to miss the Notting Hill Carnival, which is the second biggest carnival in the world. Portobello Road Market is a two mile stretch of stalls selling antiques, vintage goods and trinkets. This area is an instagrammer's dream, with the streets lined with colourful terraced houses and aesthetic cafes. Gin lovers should visit Ginstitute, where you can learn about gin and even make your own blend.
Camden (blue area)
Camden is a must for anyone visiting London. The area where punk first came onto the British music scene, Camden is now a mixing pot of markets, live music venues, historic pubs and shops. The shops here are something in themselves, ranging from neon lit 'rave' shops, tattoo parlors, leather fashion stores, vintage clothing. Visit Camden Market for hundreds of independent designers and stalls specializing in jewelry, vinyl, home décor, artwork etc.
Soho (green area)
This neighbourhood is sexy, grungy and glitzy at the same time. The strip clubs and sex shops remind you of its red light district roots, but the theatres, jazz bars and comedy clubs give it a reputation as one of the best nightlife destinations in the capital. The heart of London's LGBT scene is around Old Compton Street, where you'll find tons of gay bars. For a night at one of London's many iconic theatres, head to Shaftesbury Avenue which runs through London's famed West End Theatreland.
Kensington (pink area)
This is an affluent neighbourhood situated in the west of London. This area is popular with art and history enthusiasts, as its home to some of the city's best museums: the Natural History Museum, the Victoria and Albert Museum, and the Science Museum. If you love old buildings and palaces, make sure to visit Kensington Palace and its surrounding gardens, home to British royalty since the 17th century. Kensington is also a great place to take a break from the hustle and bustle, with Hyde Park being the largest green space in London.