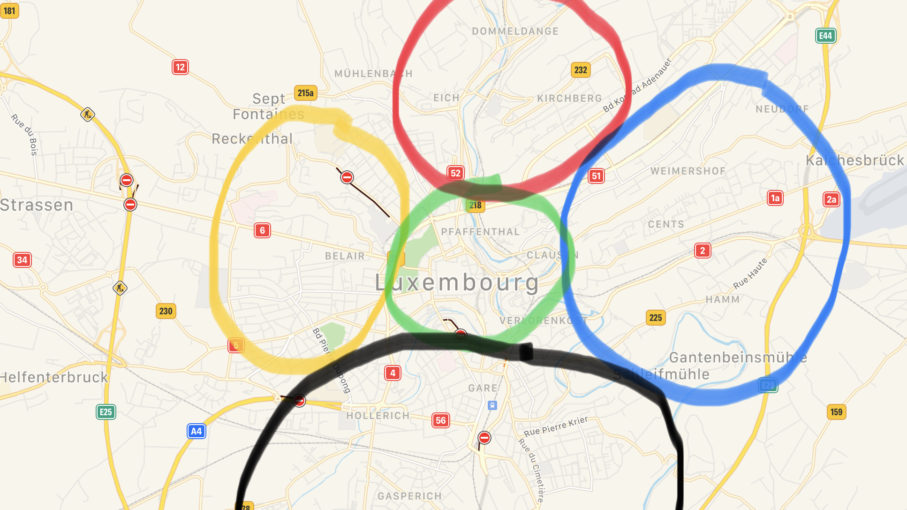 Red Area:
This is the main residential-business district of Luxembourg, a relatively small metropolitan city. This area includes many European institutions, and the Northern region of the city is known as the "European Quarter", this includes the European Court of Justice. Along with European institutions, this area also has several educational facilities and arts facilities, including the national concert hall, Philharmonie Luxembourg.
Along with being a business district, this area includes several walking trails and green areas.
Green Area:
This area is the centre of Luxembourg and is primarily made up of the "Ville Haute", the medieval-era 'old town' of Luxembourg. It is the ideal tourist spot, and includes plenty of historic buildings such as the Notre Dame Cathedral, and you can book to visit the Grand Ducal Palace. Reserve most of your trip for exploring this very picturesque part of the city, as there are also other large green spaces and recreational areas across the Ville Haute.
There are plenty of al fresco style dining establishments and it's the premium shopping area for luxury European brands. Naturally, this is the most expensive part of the city to stay in. This area also includes the Clausen district, which is the main area for nightlife in the city.
Blue Area:
This is primarily a residential area, and near the airport so is easily convenient for tourists. There is a public transport tram that goes from the airport to the city centre, and which is now free for all passengers, including tourists. The area is very historic and includes several WW2 cemeteries, making it ideal for a walking trip around the city. There are plenty of casual dining areas and small shops to provide a more authentic experience.
Black Area:
This area is ideal if you want to be within walking distance, or a short bus ride, from the city centre. It is generally a cheaper area of the city to stay in, so is ideal for longer visits or if you're on a budget and want to be close to the city centre but without paying a premium.
Yellow Area:
This is a particularly expensive area of the city, and is considered very up-market. This area is popular with tourists as it includes the 'Grand Théâtre de Luxembourg' and the area is home to the annual summer funfair called 'The Schueberfouer'.