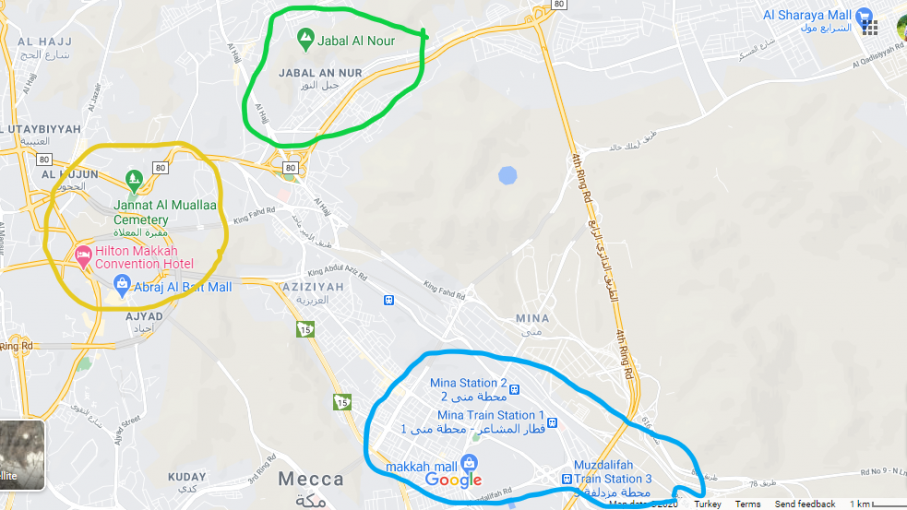 Golden Circle:
This area is of vital importance for Muslims. It is the most sacred and holy part in Islam. Home of Muslims God "Allah" is present in Masjid Al Haraam known as "The Holy Kaaba". Visitors and Pilgrims are always to be found here worshipping throughout the year. Around the mosque, there are few sky scrapers, among them there is Abraj Al bait which is by far the 4th tallest building in the world and it is holding the record of highest Clock Tower. Near to the Clock Tower there is Makkah official library. You can find many historical books as well as tourist guides over there.
Around the corner is famous Zamzam well. Although visitors are not allowed near the Well. But you can drink the zamzam water to freshen up yourself from the hot temperature.
Blue Circle:
Mina and Muzdulfa both are also important spots for pilgrims who come during the Hajj period. There are air conditioned tents built over there to facilitate the pilgrims. Also there are few train stations who transport the pilgrims from Mina to Muzdulfa and then to Holy Mosque. However, these trains only operate in Hajj season. Although no hotels are present over there but government is constructing hotels for pilgrims. Near to Mina you can find Makkah mall. It's a big and modern shopping mall which includes different outlets for a brand, there is a food court and you can easily enjoy at any local and international restaurants. One of the best university of kingdom Ummah al Qura is also near the Makkah mall.
Green Circle:
Here lies the beautiful and historic point, Mountain of light or Jabal al Noor. It is believed that the first revelation was revealed here on the last prophet of Allah. It was later converted into a hiking track where you can visit and offer prayers. But it's recommended that you should go before sun rise. In this way you can easily reach to the top and enjoy the beautiful sun rise along with breathtaking view of the whole city. There are very few restaurants there. So it's better to take something with you before the hiking.