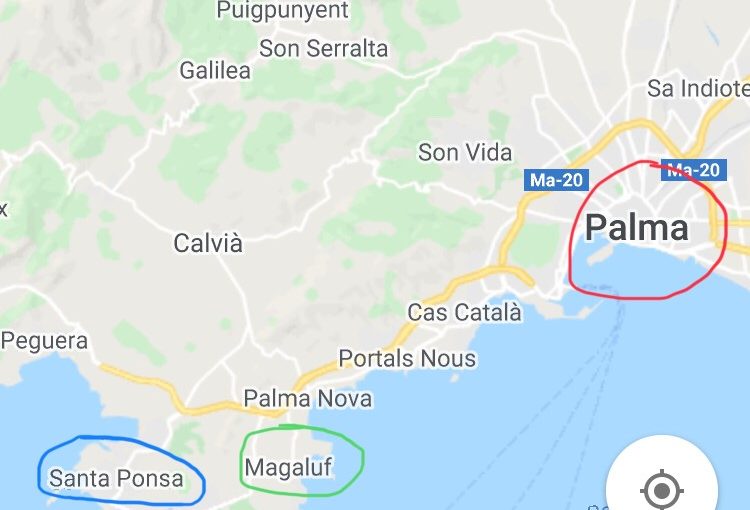 Mallorca-Mallorca is a great place to visit if you like island beach life. The weather is often sunny, and you are able to get a nice tan. The beaches are rather windy, so aim to go in the ocean on days where the water is calmer. Otherwise the waves are too powerful and cold to swim in.
Palma (Red)-
Palma is the capital of Mallorca and has a stunning cathedral called the La Seu. It is very pretty at night. Palma's surrounding area is not that busy for nightlife but does have some nice restaurants. It is not a place to go clubbing. Mallorca has a range of fresh seafood. Such as the infamous stonefish and lobster. I would recommend the Beatnik Palma restaurant. Palma is a calm city and it offers many tapas deals with cheap 1 euro beers. The vibe is very relaxed, and people do not stay out too late. By 11pm-12am the streets are mostly quiet.
Moreover, you can walk along the dock where there are several boats to admire and there are several websites that allow you to rent a boat for a day (conditions may apply).
For a family day trip, I would suggest going to the Palma Aquarium. Here you can touch the starfish and sea urchins and see a range of sea life. They take your photo with a parrot on your shoulder. They also give cheaper tickets if you book online or give group pricings.
Santa Ponsa (Blue)–
Excursions are in abundance here. Transport is readily available from hotels and often excursion companies will pick you up by minibus. Mallorca has many excursions such as; cliff jumping, boat trips, jet skiing and more. The cliff jumping is definitely worth the thrill! Santa Ponsa has crystal clear waters perfect for snorkelling. This area has more of a chilled nightlife. It is not as busy as Magaluf but there are still bars with entertainment and music.
Magaluf– (Green)
The party side of the island is only active in summer and Magaluf is the party place to go and is packed with European tourists. This is more of a place to visit if you are between 18-25years old- as students tend to visit here. There are a copious number of bars and hotels to choose from. DO NOT come here in winter because almost everything is closed. Many people make this mistake.
Overall, Mallorca offers something for all ages and is worth a visit!