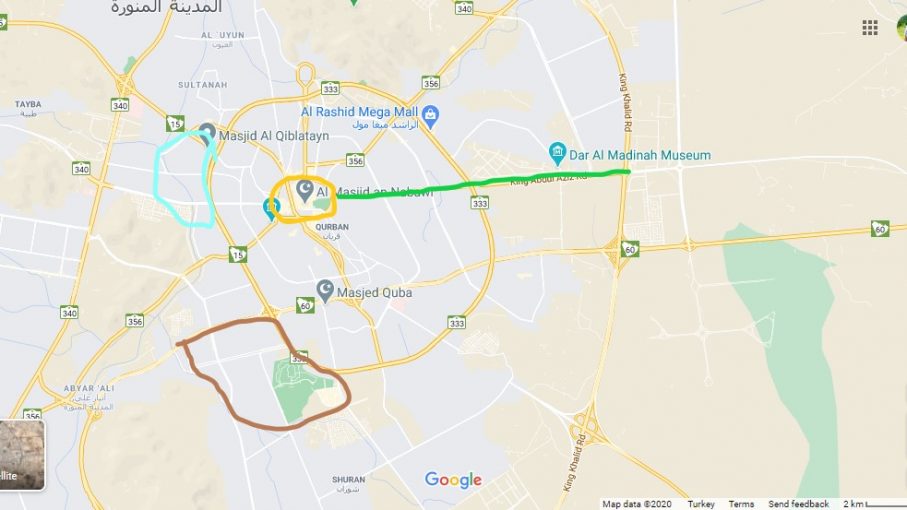 Golden Color (Central Haram Area):
Haram Area is the central part of the city. The famous Holy mosque Masjid Al-Nabwi is located here. It's a sacred place for Muslims. Tourists and Pilgrims from all over the world visit the area and offer prayers here. The tomb of Last messenger of Allah is also here. Near Mosque there is a cemetery named Jannat ul Baqi which is also considered as sacred place for Muslims. Around the mosque there is a first ring road. This ring road is interlinked to five major highways of the city, making it feasible to access from all over the city. Majority of the 5-stars hotels are located all around the Mosque.
Green Color (King Abdul-Aziz Road):
King Abdul Aziz road is one of the largest highway of Medina, starting from First ring road, crossing 2nd ring road and ending at the exit point of the city. This road is famous for several reasons. It is modern and developed part of the city. Hotels are few as compare to other areas. Famous International and local restaurants are here. There is an official Medina Museum, Dar ul Madinah museum, which is situated near to governor house. Originally it was old railway station which was built in Ottoman Empire for connecting Turkey to Medina. There is also a modern Railway station which is famous for its unique and beautiful construction.
Brown Color (The walk road of Medina):
The famous Medina walkway, Al Hijrah walkway is located near King Abdullah road. Originally this walkway was built first for the residents of Medina so they can come and enjoy Bbq on weekend. After that whole society was constructed around it. There is also one of the largest park of the city, King Fahad Park is located which is also designed uniquely. This park is constructed in levels. If you can reach to top level you will be able to enjoy the delightful view during sunset. In front of the park, there are famous shopping malls including Hyper Panda, Extra, Centre point, etc. So this area contains everything in it.
Blue Color (Al Qiblatayn district):
This area is famous for its unique cultural diversity. Any kind of item/place that you can think of is present here, restaurants to car spare parts to malls to workshops to bookshops to coffee places. Beside this there is famous Mosque, Masjid Qiblatayn which is also considered as sacred spot for Muslims is located here. One of the finest University of Kingdom, Islamic University of Medina, is just beside this area.