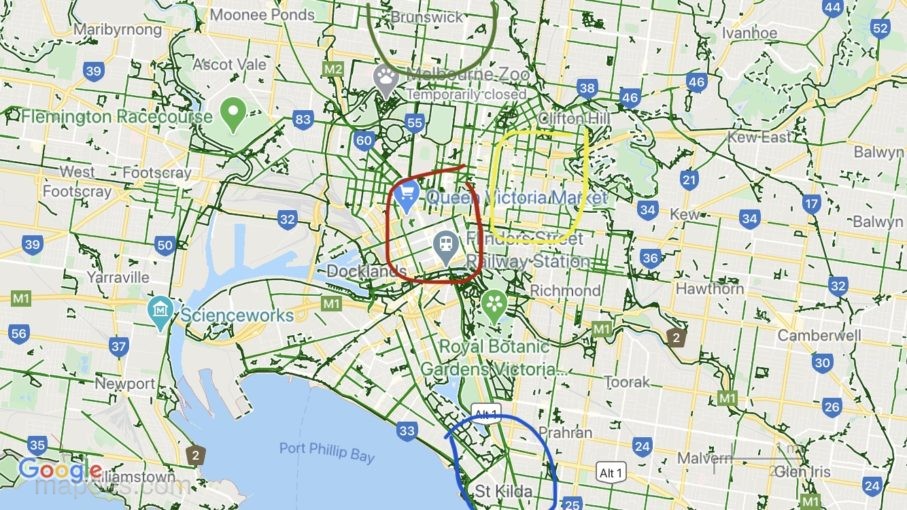 Brunswick (green): Neighborhood known for its inclusive, judgement free community where self-expression is welcomed. There are heaps of second-hand shops to venture through and being that this place is popular for its hippy vibes, you will likely come across cool finds. Brunswick is only a short 5-minute walk away from Fitzroy and a half hour walk from the central business district.
Fitzroy (yellow): Another well-known suburb in the city for being hippy and alternative. It is popular with students, young professionals, and like-minded residents. You will discover many side streets with incredible markings from local street artists. Fitzroy is also a great spot for local live musicians and bar hopping. Don't miss the Rose Street Artists Market during the weekend for handmade goods. Hop on a tram to visit other areas of the city or if you plan to walk to the city center it is only a half hour journey.
St Kilda (blue): My personal favorite suburb that is located beside the beach and Melbourne's famous Luna Park. Be sure not to miss the penguins that hang out at the St Kilda pier as the sun is setting. Please do not take photos with flash, simply enjoy seeing these cuties! Stroll along the beach fronts shopping center and dine at the Lentil as Anything where you pay only what you felt the meal was worth. St Kilda is not very close to the city center, so I recommend purchasing a Myki Card and hopping on the tram. Also, being a beach suburb, St Kilda will be more on the pricey side.
Central Business District or CBD (red): Stay in the heart of the city that offers endless shops, restaurants, museums, and cobblestone alleys. Of course, staying in the business district will be more expensive, so keep that in mind when looking into accommodation. The CBD is easily accessible by foot and honestly the best way to explore the many unique and hidden spots. I enjoyed the many areas where artists can create a masterpiece on the walls for visitors and residents to marvel at. Don't miss Hosier Lane, Union Lane, Duckboard Place, and Caledonian Lane for the constantly changing murals. Also, take a walk along the Yarra River and be sure to visit the Queen Victoria Market.