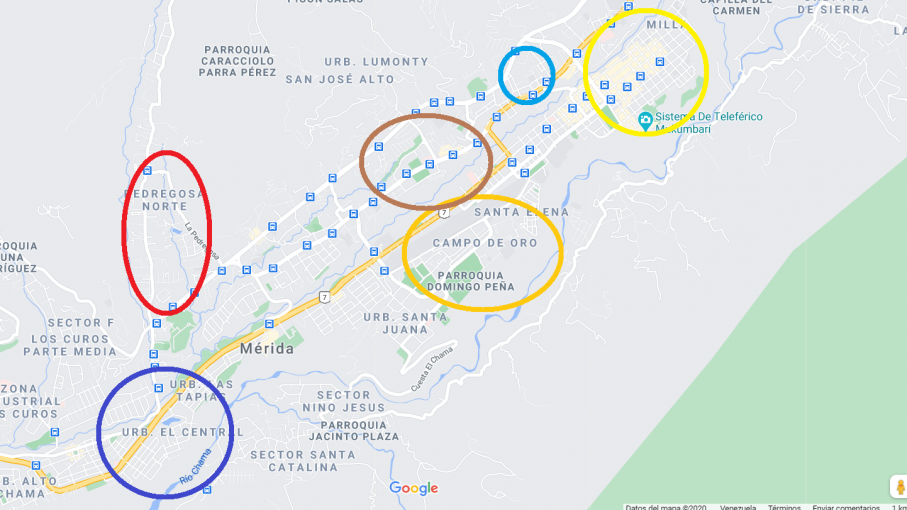 Yellow zone
This is what we call "El Centro," which means the center, because it is the heart of the city. Here you will find the main buildings, the city council, the gorgeous cathedral, the prettiest parks, and the richest museums. It is the oldest zone of the city, so the houses carry a certain magic and their families have lived here for many, many generations. It is the most touristic part of the city, and there's always something good and tradition to eat at every corner.
Light blue zone
This is a highlight of the city, even if not exactly for tourists. Mérida is known as University City, for having the best university in the country. Here you will find many faculties including Law, Education, Social Sciences, History, and Languages. It is beautiful, interesting, and the intellectual part of town.
Orange zone
This is a mostly residential area, not recommended for the casual tourist. But if you want a real taste of people fighting to make a living in this city, a glimpse at our ordinary lives, and a hint of a real true part of our hidden culture… you can find a little bit of everything around here.
Brown zone
This is a fun one. Around the avenues here you will find the best and biggest malls of the city. That's where you'll find the locals hanging out, shopping, eating, and going to the movies. You will find good service, the highlights of our culture, authenticity, and good transport too!
Red zone
Around here we see a different side of the residential areas. There are big houses with open spaces and you will start to see some of the magic of living surrounded by mountains and rivers and feeling so close to the clouds! It's a beautiful route up the mountains that never gets boring.
Purple zone
Lastly, we have probably the most wealthy residential zone around, with a couple of fancy and old neighborhoods that are really nice sights. But, also, you will find a rich culture around here, you can experience our culture in the many churches and some of the very best spots for eating are also around here.