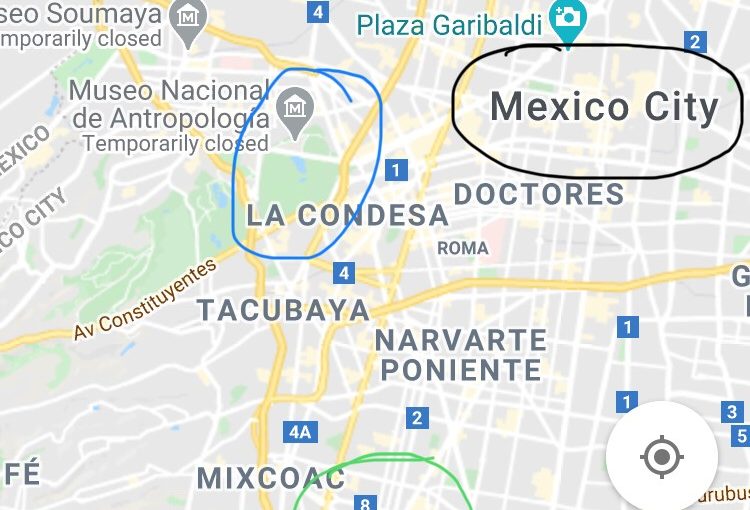 Mexico City (Black)
Mexico is a place to visit if you are interested in history, art, and shopping. In Mexico City there is a clear divide between the rich and poor and I would suggest against taking buses since they are not the safest. Renting a car or taking taxis is a far safer way to travel in the city. I would invest in a hotel that has a high star rating just to increase your security and be local to your surroundings. This will avoid going to any dodger part. The four seasons hotel, although it is expensive, is clean and safe hotel to invest in.
San Miguel Chapultepec (Blue)
Key places to visit in Mexico City are the museums. The Museum of Anthropology is a great place to learn about the Mayans and the history of Mexico and all the various tribes. The Chapultepec castle is near Miguel Hidalgo and is a great place to visit for a 360 view of Mexico City and allows you to take some scenic photos. In addition, there are many shopping centres and street markets to go to around this area. If you like silver, then street markets are the place to go and have relatively cheap prices.
Del Carmen (Green)
In regard to food I would suggest trying all the stereotypical Mexican dishes such as; fajitas, tacos (with corn tortillas), quesadillas and enchiladas. My personal favourite being the tacos! I would avoid any street food and stick to restaurant food just so you know the hygiene level in up to par. The Frida Kahlo museum is in Coyoacan and it displays Frida's artwork and many Mexicans are fascinated by her and print her face on many items of clothing- she is also known for her prominent unibrow. There are several markets near the museum to browse so see if you can spot her on any of the merchandise.
Teotihuacan (Red)
Just outside the city there is Teotihuacán where there are the famous pyramids known as the Temple of the Sun and the Temple of the Moon. Surrounding the pyramids are jewellery stalls where you can buy crystals and to charge it with good energy, you must walk up one of the pyramids. The view is also worth it! There are tour guides available, but their English is slightly broken.
Overall Mexico is a historical and fun holiday to go on. With seasonal sun and many types of cuisine to try.