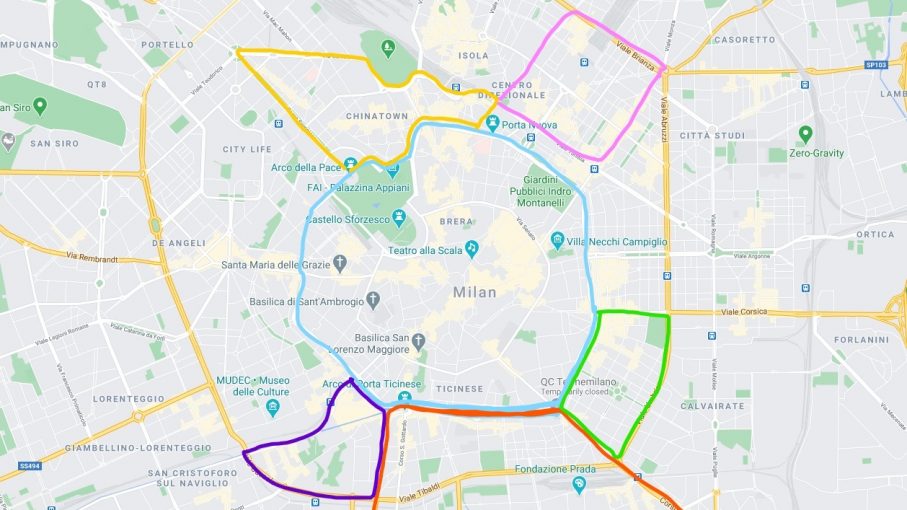 Blue Area:
This is Centro Storico, Milan's most famous district. It is home to one of the most famous Cathedrals in all of Europe: Duomo di Milano, which is a must visit. Teatro alla Scala makes Centro Storico a great place for music lovers. This area is filled with the most wonderful gothic architecture and gorgeous eateries, such as Panzerotti Luini.
This area is very safe due to the high number of tourists here. Although, there are many scams in the tourist hotspots. It would be advisable to read about the newest scams before visiting.
Green Area:
This area is Romana. If you are seeking Milan's youthful and trendy side, this is the spot for you. Porta Romana largely focuses on an alternative aesthetic, with bars and restaurants situated in industrial-style buildings.
This place is also very safe and has a large local presence.
Red Area:
This area is called Ticinese and is very similar to Romana. The whole neighborhood radiates hip energy, with trendy eateries from around the world to quaint antique shops; this is a place worth visiting if you miss Romana. This neighborhood is very safe, as there is a large number of friendly locals.
Purple Area:
Milan's very own Venice. Navigli is a quaint, little neighborhood that has a strong emphasis on the gorgeous canal running through.
A large amount of restaurants and eateries are situated on the canal: Navigli is a must-visit for people looking for gorgeous scenery. This area is also very safe but beware of scams.
Yellow Area:
This neighborhood is Chinatown. While it doesn't compare to Chinatown in NYC or San Fran, Milan's Chinatown is a cute neighborhood with many restaurants and a beautiful aesthetic. Little, red lamps light the streets and the high number of tourists and locals make this place one of the safest in Milan. Scams are less frequent here, but it is best to be vigilant.
Stazione Centrale:
This neighborhood is called Stazione Centrale and is rather bland outside of one thing: the train station. The attention of this neighborhood is directed solely at the wonderful train station, which is a beautiful, historical building that you should definitely pay a visit, even if you don't plan on riding a train.