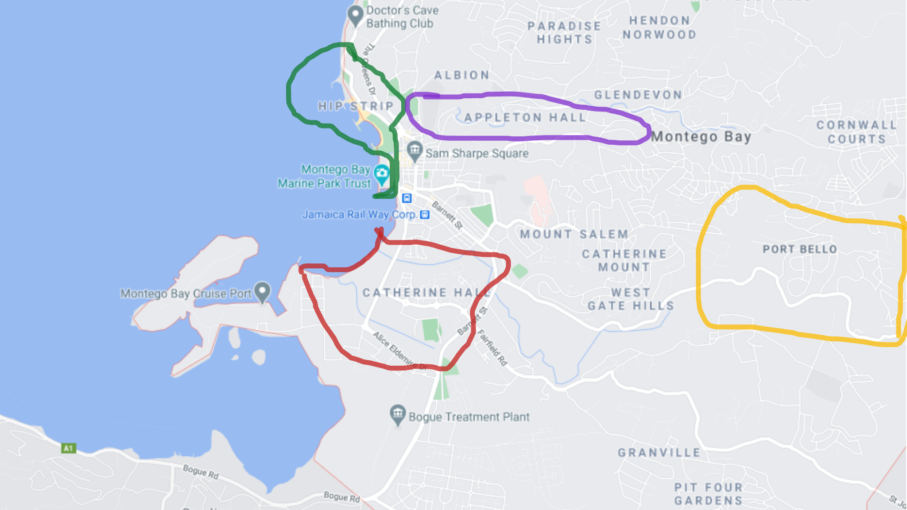 Green Area:
This includes the Hip Strip. This is a well-developed stretch of street that has a variety of nightlife and entertainment. It is literally the pulse of the city that is reached by taxi and tourists can easily get around by walking along the entire stretch. There is something there for almost everyone- shopping, the infamous Doctor's Cave beach, a bird sanctuary, and endless restaurants including Margaritaville and the Pelican Grill. Close to the city center via a quick walk, tourists can visit cultural sites such as Sam Sharpe Square. It is really ideal for any and all kinds of visitors and there is never a dull moment. Accommodation here is luxurious and expensive.
Red Area:
This includes Catherine Hall. The area is primarily residential but has the right amount of commercial activities and entertainment to let tourists have a good time. For music lovers, the neighborhood is the home of the popular Reggae Sumfest music festival which mixes a strong line up of local and international artists. It is ripe with amenities such as the Catherine Hall Health Center, Mega Mart supermarket, and the Catherine Hall Sports Complex. It is not as festive as the Hip Strip but offers quality entertainment. Accommodation varies between affordable and expensive. Taxis are readily accessible here.
Yellow Area:
This includes Porto Bello. This area of the city is a quiet and fairly developed one with upscale accommodation including several villas. Entertainment is limited but engaging. For visitors who want to dive into the local culture and history, there is the Rastafari Indigenous Village. For a taste of real local cuisine then visitors can stop by Strictly Jamaican Vbyz and Food restaurant. To cater to nature lovers, it has a few gardens. Taxis will take visitors around the city and back. The cost of accommodation varies.
Purple Area:
This includes Appleton Hall. The area is safe, serene, and residential. It is not the ideal place for visitors who want to be close to the attractions and entertainment but would be a good location for those who prefer to have peace and quiet and still be close to the life and buzz of the city. Taxis are accessible here and accommodation is fairly priced.