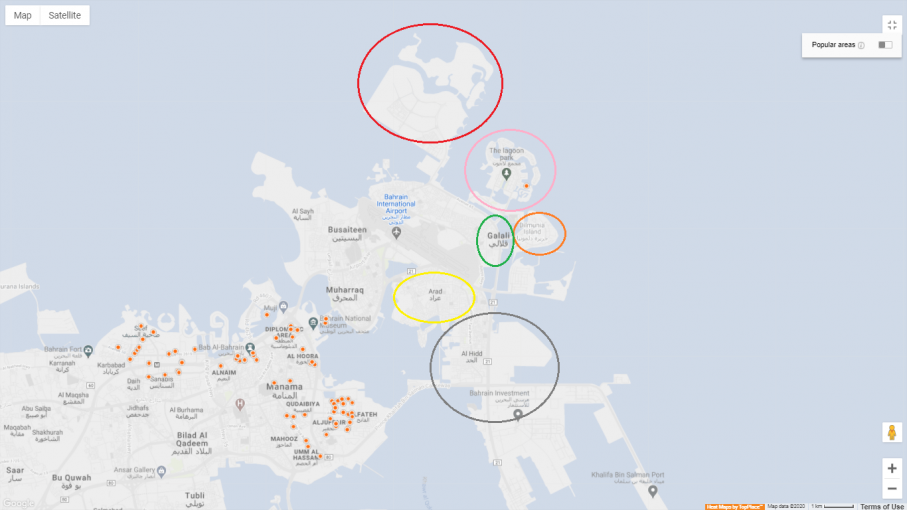 Black Area shows Hidd. It is located on the southern tip of Muharraq and is the second largest island of kingdom. Hidd is one of the oldest areas of Bahrain. It is a family residential area and has a big park named Prince Khalifa Salman Park which is equipped with different cafes, restaurants and kids play areas.
Red Area shows Diyar Al Muharraq. This island offers a luxurious lifestyle with residential and commercial facilities. Marassi Al Bahrain is also on this island which offers shopping mall at beachfront, expensive seaside cafes and luxurious hotels with sea view rooms. Dragon mall- a Chinese themed shopping mall, is also a specialty of this island.
Pink Area shows Amwaj Islands. It is a group of hand-made islands. A place named Amwaj Lagoon is lined with restaurants, cafes and other entertainment options. It is one of the posh areas of Bahrain. This island has many luxurious hotels and apartments for residents and for tourists. This place has all the things that a tourist wants i.e. clubs, bars, cafes, hotels and beaches etc.
Orange Area shows Dilmunia Island. It is situated in the heart of Arabian Gulf. It is closer to airport and easy accessible to causeway. This island offers several luxurious with a breath taking sea views. The Mall of Dilmunia is equipped with various international brands for clothing, food, apparel and entertainment etc.
Yellow Area shows Arad. It include middle class community. It is a quiet and calm place with all the middle class options for tourists. Arad fort is the specialty of this area which is the major tourist attraction in Bahrain.
Green Area shows Galali. This is middle class family residential area. It is near to Bahrain International Airport. Tourists can get options of 2 star to 4 star hotels options in this area. Art Rotana Hotel in Galali is the good 4 star hotel option for tourists that are looking for hotel nearest to airport. Galali itself is not a place to fun but it is nearby to Amwaj Islands which has all the amenities that a tourist needs.