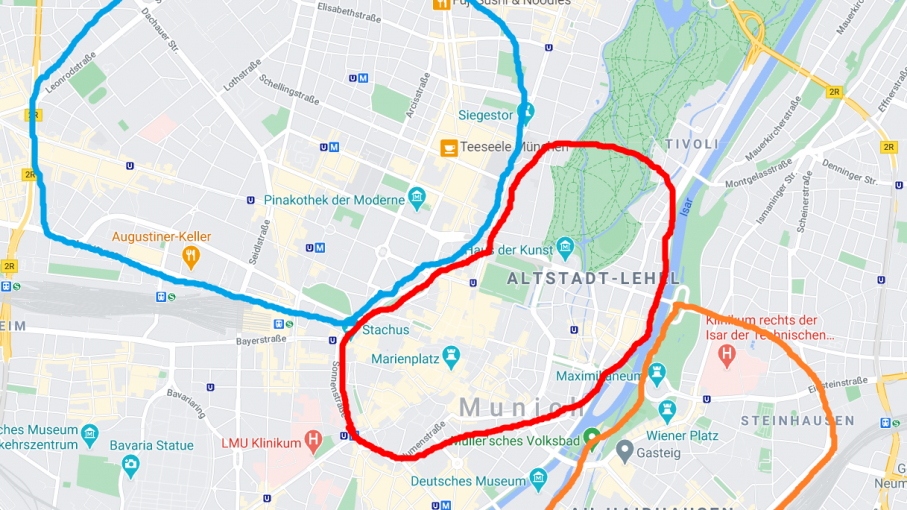 Munich is one of the coolest cities in Germany and it is considered the world's most livable city. This is a mapee that represents the best areas in Munich.
Red area
The red area is Munich's medieval Old Town, also called Altstadt. I walked around this area mostly on foot because everywhere you go there are things to see. I rather enjoyed looking at the neo-Gothic architecture and visiting the main attractions, such as the beautiful Marienplatz. This area is quite crowded since all of the tourists visit it. In addition, it has a pedestrian zone full of shops making it a shopper's paradise. If you want to visit the other parts then you can easily hop on public transport that will take you anywhere.
As for accommodation, this place is perfect location-wise but it is also a lot more expensive than any other part of Munich. However, if you can afford it then there is no better place to stay at than in the heart of the city where all the main attractions are at a walking distance.
Blue area
The blue area is also called Maxvorstadt and it is currently regarded as the cultural heart of Munich. This area is amazing for artists and art lovers since it houses a great number of museums all worth a visit. As I visited all main attractions I could feel the history of this Nazi stronghold. Moreover, this area has so many great restaurants and bars making it the perfect nightlife hotspot.
Accommodation prices here vary and most of them are a bit more expensive. However, if you're lucky you can find a great affordable place. And you won't go wrong because this neighborhood is so calm and the public transport can take you anywhere else you want to go.
Orange area
The orange area on this mapee is also called Au-Haidhausen and it's settled on the opposite side of the river to Altstadt. It is often called the French Quarter because of the leafy streets, named after French cities, which are reminiscent of rural France. It is a lovely place to go for a stroll, sit on a bench and enjoy the relaxing atmosphere. This also makes it for a great place to stay in. You can find pretty affordable places and there is also great public transport system connecting it to the other areas.