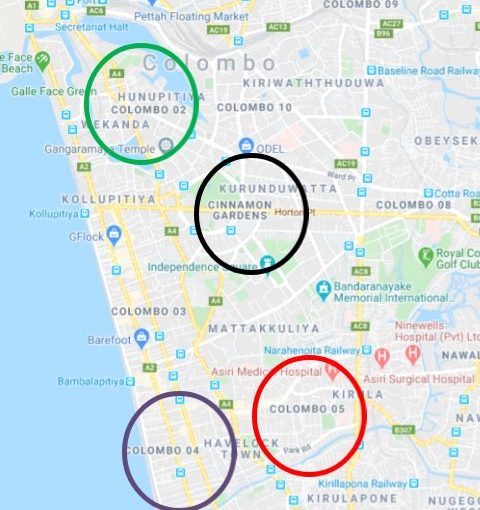 Colombo is the capital of Sri Lanka (Pearl of the Indian Ocean) and a city on a growth high. Different neighborhoods are given the numbers from Colombo 1 to Colombo 15 for navigational purposes.If you hope to stay in Colombo as a part of your journey, there is plenty to do!!!!
The list mentioned below is the coolest neighborhood in Colombo. If you hope to stay in Colombo as a part of your journey, there is plenty to do!!!!

Colombo 7 – Cinnamon Gardens (Black Color)
Cinnamon Garden is the most enjoyable neighborhood in Colombo. So many books about Sri Lanka contains about this attractive neighborhood. The area is covered with cinnamon trees that give a unique appearance to the area. It is a suburban area of huge buildings, large houses surrounded by large gardens, and now it is a bustling neighborhood with cafes and five-star hotels with the fastest Wifi. Horton Place, Wijerama Mawatha, Ward Place, and Gregory Road are all the action can be found along the main road.

Colombo 5 – Thimbirigasyaya and Havelock(Read Color)
Thimbirigasyaya and Havelock have a high attraction of tourists and the largest neighborhoods in Colombo. A few years ago this pretty cool area was an uncomfortably skinny road, nothing special place. But now it is different. It became an urban area and bustling entrance to the city with businesses and condos popping up everywhere. It is a great place for visitors and the same as expats to find a place to live. There are plenty of health food restaurants supermarkets, coffee shops, and nightclubs that make the day to day life much easier. Havelock road is the other large road that crosses paths with Thimbirigasyaya and has plenty of places for visitors.

Colombo 2 – Park Street and Slave Island (Green Color)
Park Street and Slave Island can be briefly introduced as Colombo's up and coming party neighborhood.Park Street is the pedestrian street where everything stems from
If you visit Colombo 2 you can visit the famous Gangaramaya Temple. Not only temples but also visitors can visit more with restaurants, cafes, and nightclubs. And also this area is mixed with pleasure new condos and business. Beria Lake flows across the area and, there is the Viharamahadevi Park or Victoria Park at the edge of the Cinnamon Gardens that is the only central park in the Colombo neighborhood. A large area named Slave Island is surrounded by Beira Lake and anyone who visits there can breathe some good fresh air in this relaxing area.

Colombo 4 – Bambalapitiya(Purple Color)
Colombo 4 or Bambalaptiya area spans through some of Galle Road and Marine Drive. This area is a very central and urban place. Visitors can visit the most famous Barefoot Garden Café and also the well known Banana Leaf Curry House. This quiet busy area is always in constant motion, be it with cars, people, or buses. Bambalapitiya is a charming area but considerably less vegetation but there is plenty of places to enjoy the day happily. Visitors have a great opportunity to visit plenty of five-star hotels, bars, and coffee shops on Maine Drive.