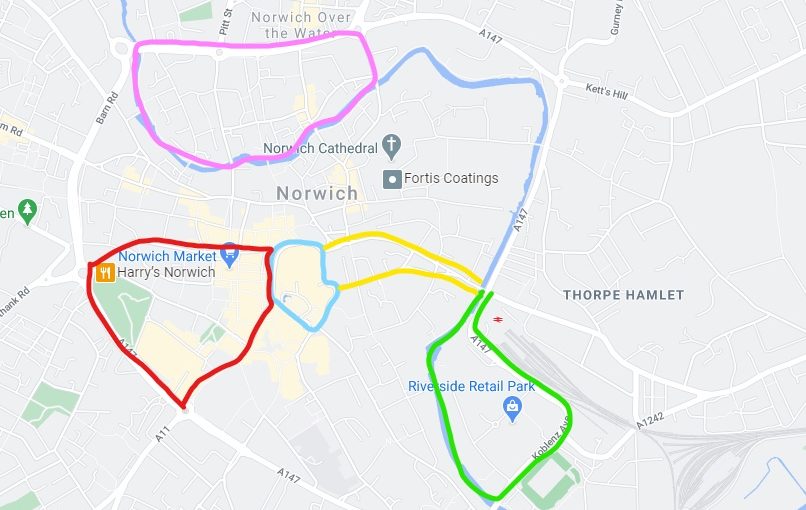 Red Area:
This is Gentleman's Walk. It is primarily a shopping district, with Norwich's markets and both the Forum and Chapelfield Shopping Centers residing here. It has a wide variety of fashion stores, such as Zara and Sports Direct, and a large number fast food restaurants like McDonalds, KFC; Five Guys, as well as local eateries.
Blue Area:
Norwich's Castle Quarter. Its name comes rather obviously from the magnificent castle situated on the top of the hill. This 11th Century Castle currently operates as a Museum and Art Gallery and is the perfect place for a family day out.
The Castle Quarter is also home to Castle Mall; a shopping district with a toy shop, perfect for younger children.
Green Area:
Every city has its night scene and Norwich is no exception. Prince of Wales Road's wide range of nightclubs and bars has made it the ideal place for party animals. This nightlife, alongside the large amount of traffic coming from the train station has made it quite a dirty part of Norwich.
Prince of Wales Road has also become one of Norwich's more rowdy areas. It is relatively unsafe at night, especially if you alone in a dark area. Daytime is safe, but I would not recommend taking children here, unless you want to disappoint them.
Pink Area:
This is Friar's Quay. This part of Norwich is mostly residential, with new developments to the West bringing in new families to Norwich. Friar's Quay offers Norwich's best views of the Broads (the river), making it worthwhile to pay this part of Norwich a visit if you are into pretty scenery.
This part of Norwich can be somewhat unsafe at night due to poor lighting and lack of people, although daytime is perfectly safe.
Yellow Area:
This is Riverside: Norwich's hip district. On one side of the river, you have old factories that have been repurposed into houses, creating an alternate, industrial look, and on the other you have a trendy retail park with a cinema, as well as many trendy eateries from all around the world, including Chinese buffets to quaint Italian restaurants. Riverside truly shines at nighttime; when the lights come on and you can sit over a delicious plate of food, overlooking the river.
Riverside is a very safe area. The bustling restaurants and shops ensure the area is well lit and people are around, even in the middle of the night.